Search for "Aubrey Brumfield" "Aubrey Brumfield" "Aubry Brumfield" Aubra* "Aubra Brumfield" "Aubra Brumfield"
1919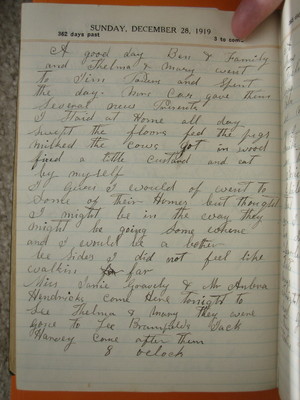 1921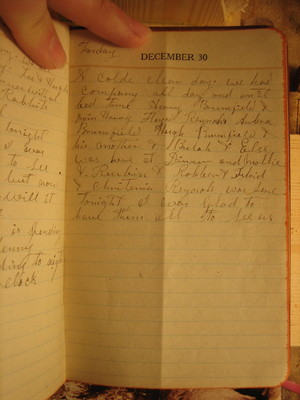 A colde clear day. We had company all day and until bed time. Henry Brumfield & Irvin Harvey, Floyed Reynols, Aubra Brumfield, Hugh Brumfield & his mother & Bulah & Else was here at dinner and Mollie & Rubin & Robbert Floid & Chritenia Reynols was here tonight. I was glad to have them all to see us.
Last edit over 10 years ago by
Linda Tucker
1920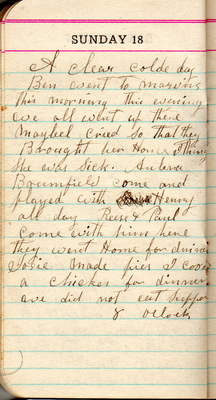 A clear cold day. Ben went to Marvin's this morning. This evening we all went up there. Maybel cried so that they brought her home. I thin k she was sick. Aubrey Brumfield come and played with Henry all day. Reese & Paul come with him here. They went home for dinner. Josie made pies. I cooked a chicken for dinner. We did not eat supper. 8 oclock
Last edit about 10 years ago by
Neil Brumfield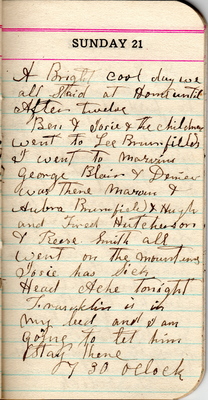 A bright cool day. We all staid at home until after twelve. Ben & Josie & the children went to Lee Brumfields. I went to Marvins. George Blair and Denia was there. Marvin & Aubra Brumfield & Hugh and Fred Hutcherson & Reese Smith all went on the mountains. Josie has sick head ache tonight. Franklin is in my bed and I am going to let him stay there.
7:30 oclock
Last edit about 10 years ago by
Linda Tucker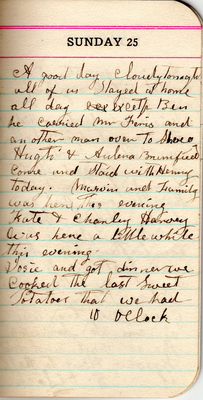 A good day. Cloudy tonight. All of us stayed at home all day except Ben. He carried Mr Feris and an other man over to [?]. Hugh & Aubra Brumfield come and staid with Henry today. Marvin and family was here this evening. Kate & Charley Harvey was here a little while this evening. Josie and [I] got dinner. We cooked the last sweet potatoes that we had.
10 oclock
Last edit almost 10 years ago by
Linda Tucker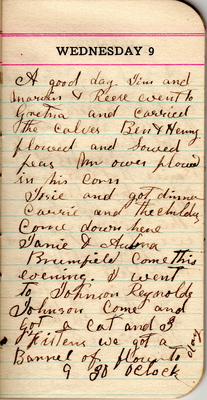 A good day. Jim and Marvin & Reese went to Gretna and carried the calves. Ben & Henry plowed and sowed peas. Mr Owen plowed in his corn. Josie and got dinner. Carrie and the children come down here. Janie & Aubra Brumfield come this evening. I went to Johnson Reynolds. Johnson come and got a cat and 3 kittens. We got a barrel of flour to day. 9 30 oclock
Last edit almost 10 years ago by
Linda Tucker