Search for "wash house" "wash house"
1918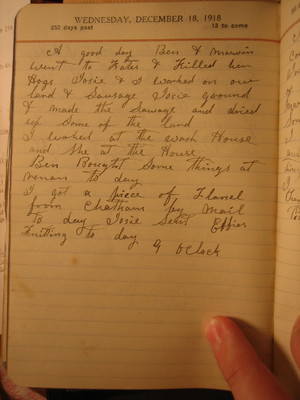 1919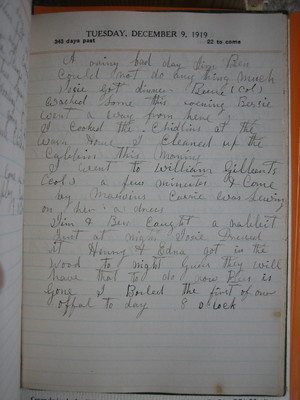 1921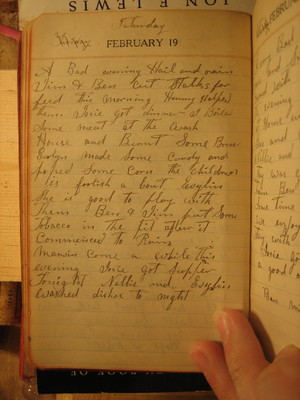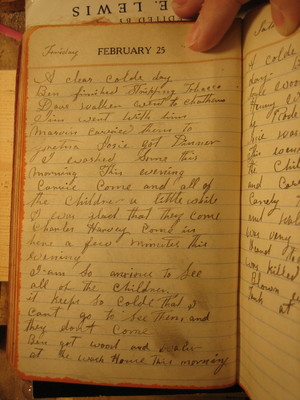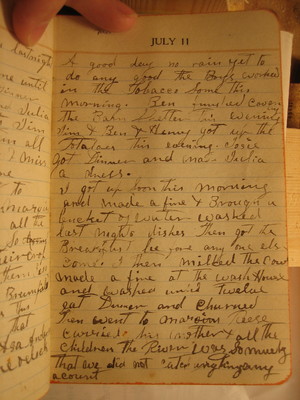 Last edit over 6 years ago by
dy957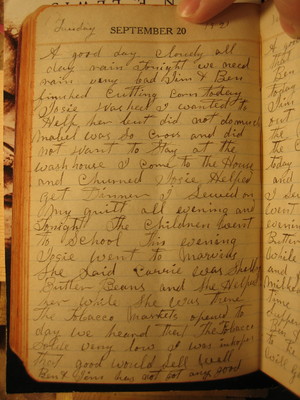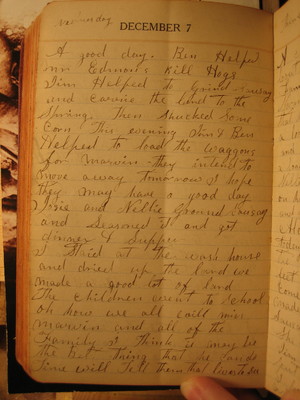 A good day. Ben helped Mr Edmons kill hogs. Jim helped to grind sausag and carrie the lard to the spring then shucked some corn. This evening Jim & Ben helped to load the waggons for Marvin. They intend to move away tomorow. I hope they may have a good day. Josie and Nellie ground sausag and seasoned it and got dinner & supper. I staid at the wash house and dried up the lard. We made a good lot of lard. The children went to school. Oh how we all will miss Marvin and all of the family. I think it may be the best thing that he can do. Time will tell them that lives to see.
Last edit almost 11 years ago by
Linda Tucker
1920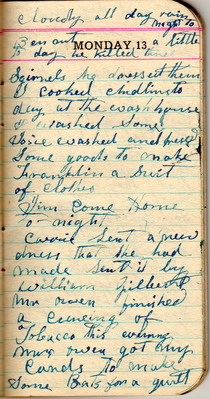 Cloudy all day. Rain to night. Ben out a little to day. He killed three sqirrels. He dressed them. I cooked chidlins to day at the wash house. I washed some. Josie washed and pressed some goods to make Franklin a suit of clothes. Jim come home to night. Carrie sent a new dress that she had made. Sent it by William Gilbert. Mr Owen finished a cureing of tobacco this evening. Mrs Owen got my cards to make some bats for a quilt.
Last edit over 9 years ago by
Linda Tucker
1922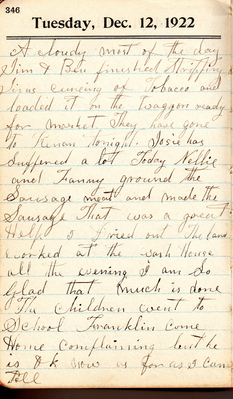 A cloudy most of the day. Jim & Ben finished stripping Jims cureing of tobacco and loaded it on the waggon ready for market. They have gone to Renan tonight. Josie has suffered a lot today. Nellie and Fanny ground the sausage meat and made the sausage. That was a great help. I dried out the [?]. Worked at the wash house all the evening. I am so glad that much is done. The children went to school. Franklin come home complaining but he is Ok now as far as I can tell.
Last edit about 6 years ago by
mkstewart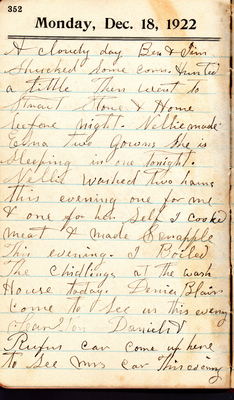 A cloudy day. Ben & Jim shucked some corn. Hunted a little then went to Strait Stone & home before night. Nellie made Edna two gowns. She is sleeping in one tonight. Nellie washed two hams this evening one for me & one for her self. I cooked meat & made scrapple this evening. I boiled the chidlings at the wash house today. Denia Blair come to see us this evening. Carlton Daniels & Rufus Car come up here to see Mrs Car this evening.
Last edit about 6 years ago by
mkstewart
1923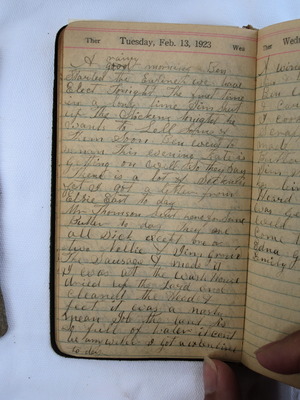 A rainy morning. Ben started the engine. We have elect tonight. The first time in a long time. Jim shut up the chickens tonight. He wants to sell some of them soon. Ben went to Renan this evening. Kate is getting on well so they say. There is a lot of sickness yet. I got a letter from Elsie East today.
Mr. Thomson sent here for some butter today. They are all sick except for one or two. Nellie and Jim ground the sausage and made it . I was at the wash house. [??iled] up the lard and cleaned the heads and feet. It was a nasty mean job. The lard is so full of water. It can't be any wetter. I got a valentine today.
Last edit almost 8 years ago by
Nathani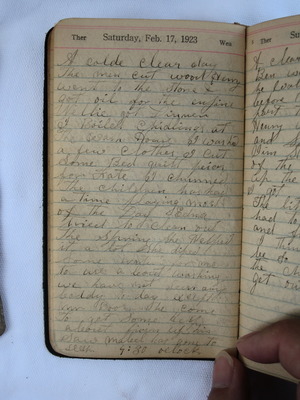 A cold clear day. The men cut wood. Henry went to the store and got oil for the engine. Nellie got dinner. I boiled chitterlings at the wash house. I washed a few clothes. I cut some bed quilt pieces for Kate. I churned. The children has had a time playing most of the day. Edna tried to clean out the spring. She helped it a lot. She dipped some water for me to use about washing. We have not seen anybody today except for Booker. He come to get some help about fixing up his saw. Mabel has gone to sleep. 9:30 oclock
Last edit almost 8 years ago by
Nathani