Search for lard*
1918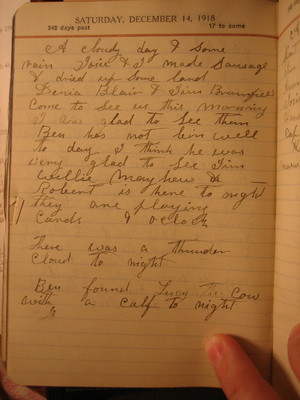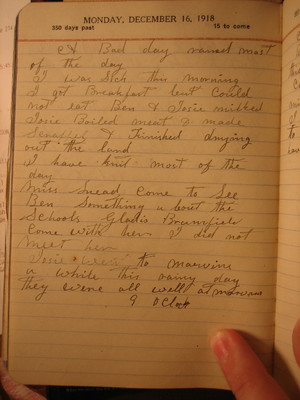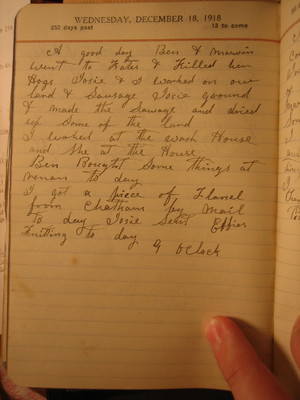 1919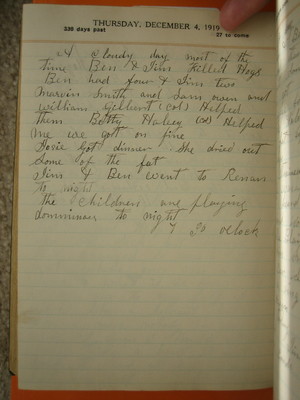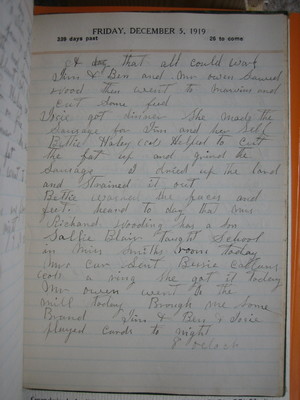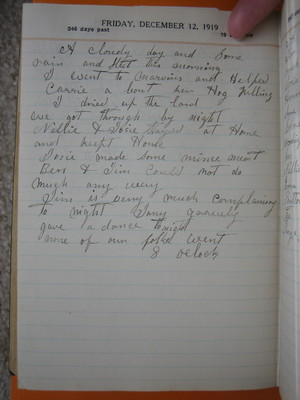 1921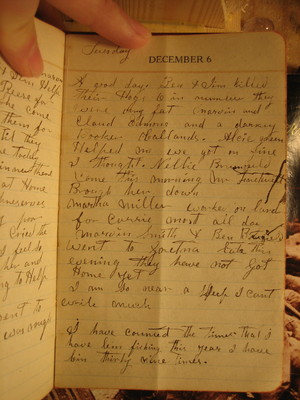 A good day. Ben & Jim killed their hogs, 6 in number. They were very fat. Marvin and Claud Edmons and a darkey Booker Callands. Alcie Green helped me. We got on fine I thought. Nellie Brumfield come this morning. Mr. Fretwell[?] brough her down. Martha Miller worked on lard for Carrie most all day. Marvin Smith & Ben Brumfield went to Gretna late this evening. They have not got home yet. I am so near a sleep I cant write much
I have counted the times that I have bin fishing this year. I have bin thirty nine times.
Last edit almost 11 years ago by
Linda Tucker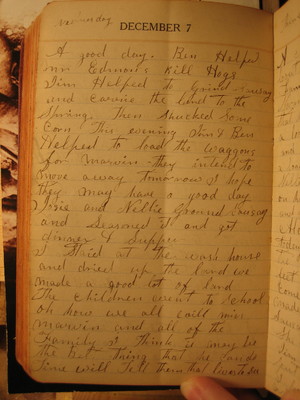 A good day. Ben helped Mr Edmons kill hogs. Jim helped to grind sausag and carrie the lard to the spring then shucked some corn. This evening Jim & Ben helped to load the waggons for Marvin. They intend to move away tomorow. I hope they may have a good day. Josie and Nellie ground sausag and seasoned it and got dinner & supper. I staid at the wash house and dried up the lard. We made a good lot of lard. The children went to school. Oh how we all will miss Marvin and all of the family. I think it may be the best thing that he can do. Time will tell them that lives to see.
Last edit almost 11 years ago by
Linda Tucker
1920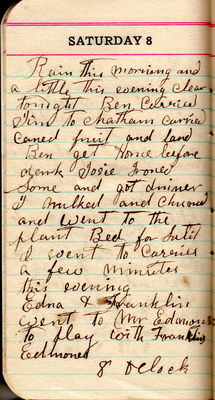 Rain this morning and a little this evening. Clear tonight. Ben carried Jim to Chatham. Carried caned fruit and lard. Ben get home before dark. Josie ironed some and got dinner. I milked and churned and went to the plant bed for salit. I went to Carries a few minutes this evening. Edna & Franklin went to Mr. Edmonds to play with Franklin Edmond.
8 oclock
Last edit about 10 years ago by
Linda Tucker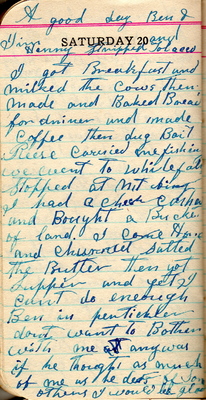 A good day. Ben & Jim and Henry stripped tobacco. I got breakfast and milked the cows then made and baked bread for dinner and made coffee then dug bait. Reese carried me fishing. We went to White falls. Stopped at Mt Airy. I had a check cashed and bought a bucket of lard. I come home and churned, salted the butter, then got supper and yet I cant do enough. Ben in pertickler dont want to bother with me any wa[y]s. If he thought as much of me as he does of some others I would be glad.
Last edit over 9 years ago by
Linda Tucker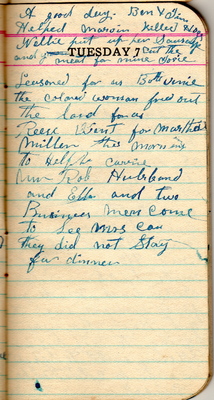 A good day. Ben & Jim helped Marvin kill hogs. Nellie put up her sausage and cut the meat for mine. Josie seasoned for us both. Vinie the colored woman fried out the lard for us. Reese went for Martha Miller this morning to help Carrie. Mr Rob Hubbard and Ella and two business men come to see Mrs Car. They did not stay for dinner.
Last edit over 9 years ago by
Linda Tucker
1922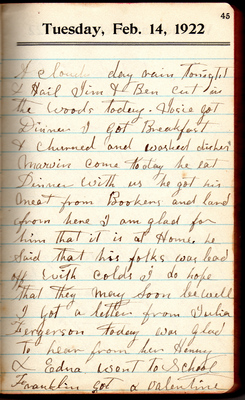 1923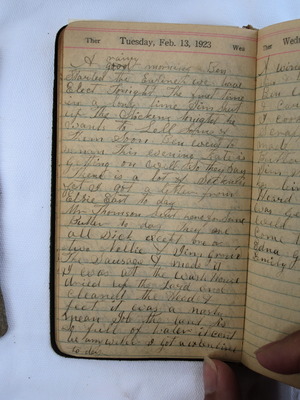 A rainy morning. Ben started the engine. We have elect tonight. The first time in a long time. Jim shut up the chickens tonight. He wants to sell some of them soon. Ben went to Renan this evening. Kate is getting on well so they say. There is a lot of sickness yet. I got a letter from Elsie East today.
Mr. Thomson sent here for some butter today. They are all sick except for one or two. Nellie and Jim ground the sausage and made it . I was at the wash house. [??iled] up the lard and cleaned the heads and feet. It was a nasty mean job. The lard is so full of water. It can't be any wetter. I got a valentine today.
Last edit almost 8 years ago by
Nathani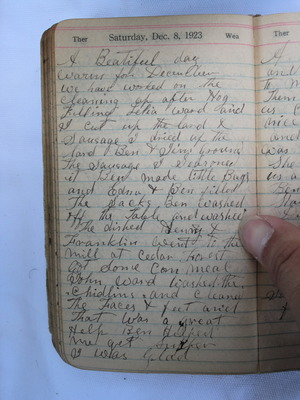 A beautiful day. Warm for December. We have worked on the cleaning up after hog killing. Lelia ward and I cut up the lard and sausage. I dried up the lard. Ben and Jim ground the sausage. I seasoned it. Ben made little bags and Edna and Ben filled the sacks. Ben washed off the table and washed the dished[?]. Henry and Franklin went to the mill at Cedar Forest. Got some corn meal. John Ward washed the chidlins and cleaned the faces and feet and that was a great help. Ben helped me get supper. I was glad.
Last edit about 6 years ago by
Nathani