Search for "Mrs Woodings" "Mrs Wooding" "Jane Wooding"
1920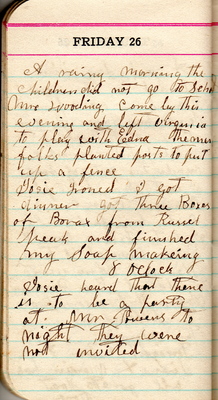 A rainy morning. The children did not go to school. Mrs. Wooding come by this evening and left Virginia to play with Edna. The men folks planted posts to put up a fence. Josie ironed. I got dinner. Got three boxes of borax from Russel Peak and finished my soap makeing.
8 oclock
Josie heard that there is to be a party at Mr Powers to night. They were not invited.
Last edit over 10 years ago by
Linda Tucker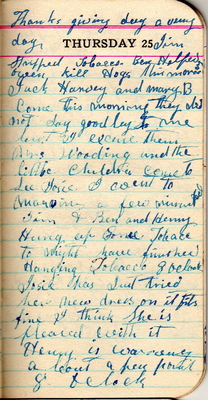 Thanks giving day. A very day. Jim stripped tobacco. Ben helped Owen kills hogs this morning. Jack Harvey and Mary B come this morning. They did not say goodby to me but I excuse them. Mrs Wooding and the little children come to see Josie. I went to Marvins a few minutes. Jim & Ben and Henry hung up some tobaco to night. Have finished hanging tobacco 8 oclock. Josie has just tried her new dress on. It fits fine. I think she is pleased with it. Henry is [?] a bout a pen point. 8 oclock
Last edit over 9 years ago by
Linda Tucker
1922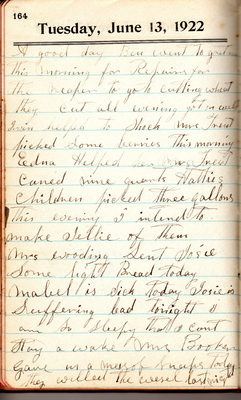 A good day. Ben went to Gretna this morning for repairs for the reaper to go to cutting wheat. They cut all evening. Got in walk. Irvin helped to shock. Mrs. [Freid] picked some berries. This morning Edna helped her. [Mrs. Freid] caned nine quarts. Hattie's children picked three gallons.
This evening I intend to make jellie of them. Mrs Wooding sent Josie some light bread today. Mabel is sick today. Josie is suffering bad tonight. I am so sleepy that I can't stay awake. Mrs. Booker gave us a mess of [books] today. They willed the [easel lastnig]
Last edit over 6 years ago by
Ben Brumfield