Search for Jake*
1921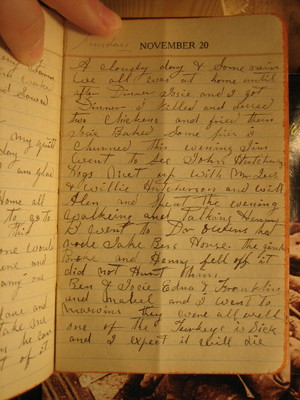 A cloudy day & some rain. We all was at home until after dinner. Josie and I got dinner. I killed and dressed two chickens and fried them. Josie baked some pies. I churned this evening. Jim went to see John Hutchersons hogs. Met up with Mr Jess[?] & Willie Hutcherson and Will Alen and spent the evening walking and talking. Henry B went to Dr Owens. He rode Jake, Bens horse. The [?] broke and Henry fell off. It did not hurt him. Ben & Josie, Edna & Franklin and Mabel and I went to Marvins. They were all well. One of the turkeys is sick and I expect it will die.
Last edit over 10 years ago by
Linda Tucker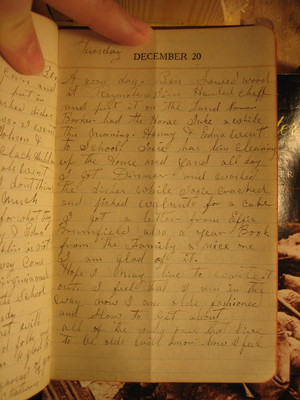 A good day. Ben sawed wood at Reynols. Jim hauled chaff and put it on the land. Norman Booker had the horse Jake a while this morning. Henry & Edna went to school. Josie has bin cleaning up the house and yard all day. I got dinner and washed the dishes while Josie cracked and picked walnuts for a cake. I got a letter from Effie Brumfield. Also a year book from the family, a nice one. I am glad of it. Hope I may live to write it out. I feel that I am in the way now. I am olde fashioned and slow to get about. All of the young ones that live to be olde will know how I feel.
Last edit over 10 years ago by
Linda Tucker
1922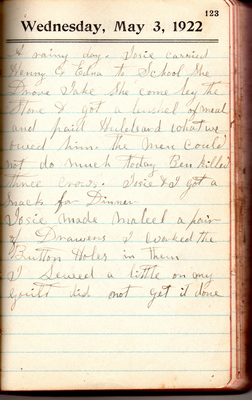 A rainy Day. Josie carried Henry and Edna to school. She drove Jake. She come by the store. I got a bushel of meal and paid [Hulebard?] what we owed him. The men could not do much today. Ben killed three crows. Josie and I got a snack for dinner. Josie made Mabel a pair of drawers. I worked the button holes in them. I sewed a little on any guilt did not get it done.
Last edit almost 7 years ago by
tonycremer