Search for "cook room"
1918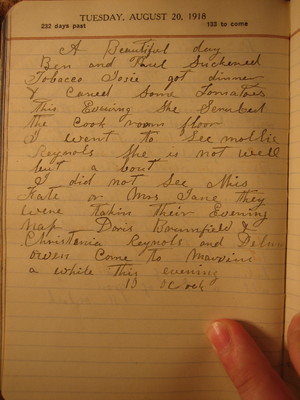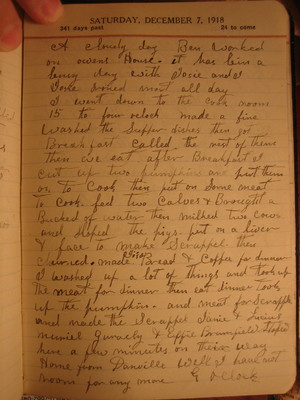 1919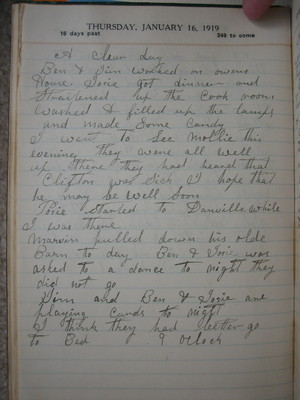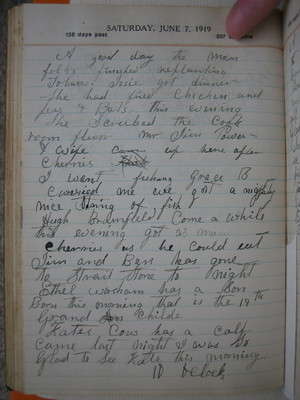 Last edit over 6 years ago by
dy957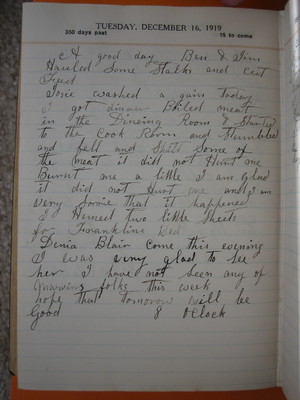 A good day. Ben & Jim hauled some stalks and cut feed.
Josie washed a gain today.
I got dinner. Boiled meat in the dineing room & started to the cook room and stumbled and fell and spilt some of the meat. It did not hurt me. Burnt me a little. I am glad it did not hurt me and I am very sorrie that it happened.
I hemed two little sheets for Franklins bed.
Denia Blair come this evening. I was very glad to see her. I have not seen any of Marvins folks this week. Hope that tomorrow will be good.
8 oclock
Last edit over 10 years ago by
Ben Brumfield
1921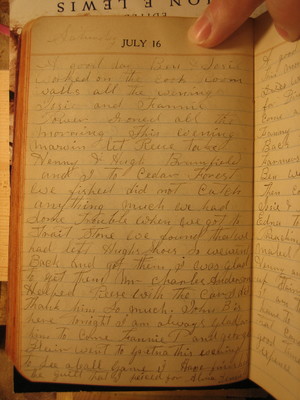 Last edit over 6 years ago by
dy957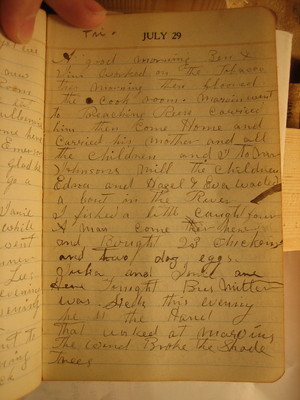 Last edit over 6 years ago by
dy957
1920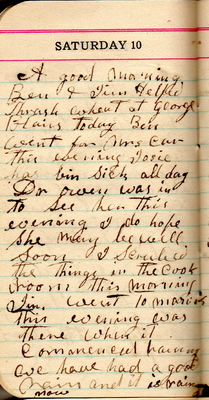 A good morning. Ben & Jim helped thrash wheat at George Blairs today. Ben went for Mrs Car this evening. Josie has bin sick all day. Dr Owen was in to see her this evening. I do hope she may be well soon. I scrubed the things in the cook room this morning. Jim went to Marvins this evening. Was there when it commenced raining. We have had a good rain and it is raining now.
Last edit over 9 years ago by
Linda Tucker
1922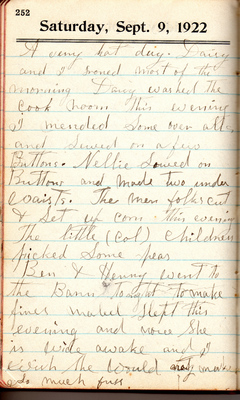 A very hot day. Daisy and I ironed most of the morning. Daisy washed the cook room this evening. I mended some over alls and sewed on a few buttons. Nellie sewed on buttons and made two under waists. The men folks cut & set up corn this evening. The little (col)[sic] children picked some peas.
Ben & Henry went to the barn tonight to make fines. Mabel slept this evening and now she is wide awake and I wish she would not make so much fuss.
Last edit about 6 years ago by
mkstewart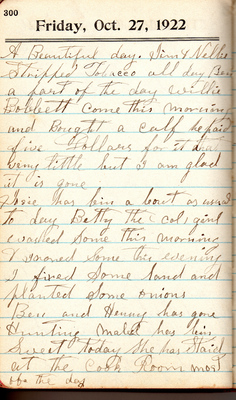 A beautiful day. Jim & Nellie stripped tobacco all day Ben a part of the day. Willie Bobbett come this morning and bought a calf. He paid five dollars for it. That very little but I am glad it is gone.
Josie has bin a bout as usual to day. Betty the (col) girl washed some this morning & ironed some this evening. I fixed some land and planted some onions. Ben and Henry has gone hunting. Mabel has bin sweet today. She has staid at the cook room most of the day.
Last edit almost 6 years ago by
mkstewart