Search for scraple* scrappel* scrapple*
1918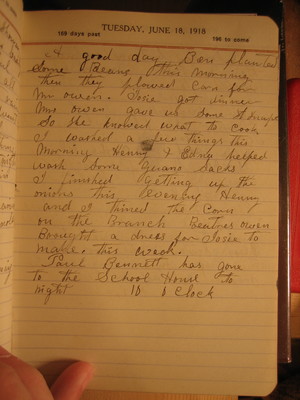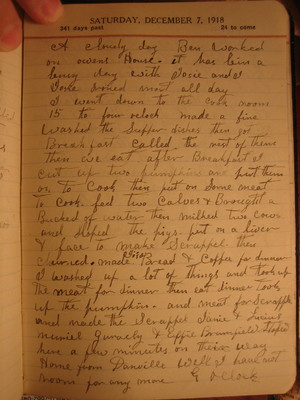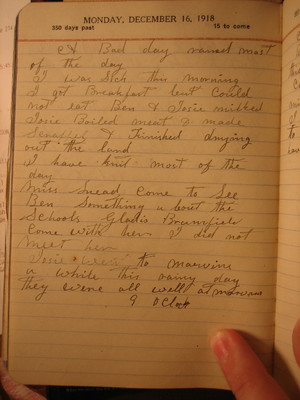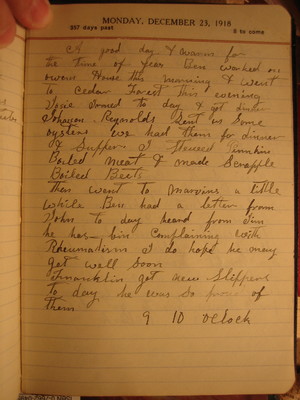 1919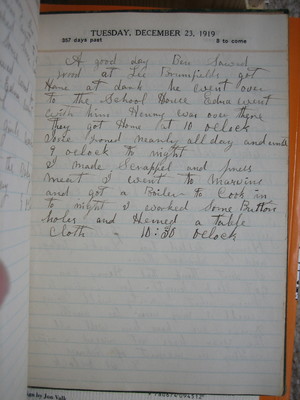 1921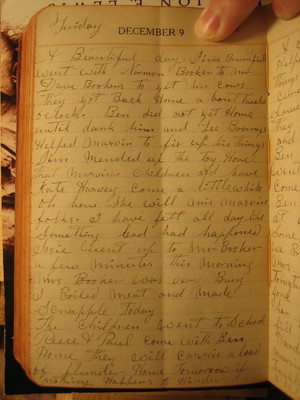 A beautiful day. Jim Brumfield went with Normon Booker to Mr Dave Bookers to get his cows. They got back home a bout twelve oclock. Ben did not get home until dark. Him and Lee Brumfield helped Marvin to fix up his things. Jim mended up the toy house that Marvins children did have. Kate Harvey come a little while. Oh how she will mis Marvins folks. I have felt all day like something bad had happened. Josie went up to Mr Booker a few minutes this morning. Mrs Booker was very busy. I boiled meat and made scrapple today. The children went to school. Reece and Paul come with Ben home. They will carrie a load of plunder home tomorrow if nothing happens to hinder.
Last edit almost 11 years ago by
Linda Tucker
1920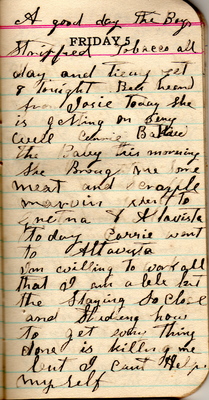 A good day. The boys stripped tobacco all day and tieing yet 8 tonight. Ben heard from Josie today. She is getting on very well. Carried bathed the baby this morning. She brought me some meat and scrapple. Marvin went to Gretna & Altavista today. Carrie went to Altavista. I am willing to work all that I am able but the staying so close and studieng how to get every thing done is killing me but I cant help myself.
Last edit over 9 years ago by
Linda Tucker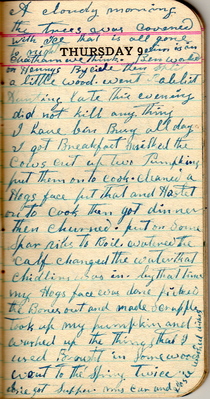 A cloudy morning. The trees was covered with ice that is all gone to night. Jim is in Chatham we think. Ben worked on Henrys bycicle then split a little wood. Went rabbit hunting late this evening. Did not kill any thing. I have bin busy all day. I got breakfast, milked the cows, cut up two pumpkins, put them on to cook, cleaned a hogs face, put that and haslet on to cook then got dinner then churned, put on some spar ribs to boil, watered the calf, changed the water that chidlins was in. By that time my hogs face was done. Picked the bones out and made scrapple. Took up my pumpkin and washed up the things that I used. Brought in some wood. Went to the spring twice. Josie got supper. Mrs. Car and Josie washed dishes.
Last edit over 9 years ago by
Linda Tucker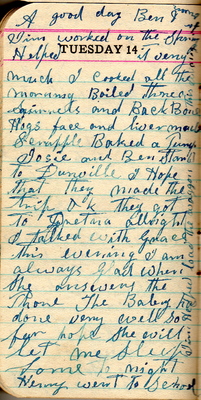 A good day. Ben & Jim worked on the spring. Helped it very much. I cooked all the morning. Boiled three sqirrels and back bone, hogs face and liver. Made scrapple, baked a tung [?] Josie and Ben started to Danville. I hope that they made the trip ok. They got to Gretna allright. I talked with Grace this evening. I am always glad when she answers the phone. The baby has done very well so far. Hope she will let me sleep some to night. Henry went to school. Jim helped load the waggon this evening for Owens.
Last edit over 9 years ago by
Linda Tucker
1922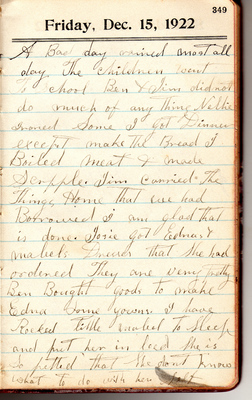 A bad day. Rained most all day. The children went to school. Ben & Jim did not do much of anything. Nellie ironed some. I got dinner except make the bread. I boiled meat & made scrapple. Jim carried the things home that we had borrowed. I am glad that is done. Josie got Ednas & Mabels dresses that she had ordered. They are very pretty. Ben bought goods to make Edna some gowns. I have rocked little Mabel to sleep and put her in bed. she is so petted that she dont know what to do with her self.
Last edit about 6 years ago by
mkstewart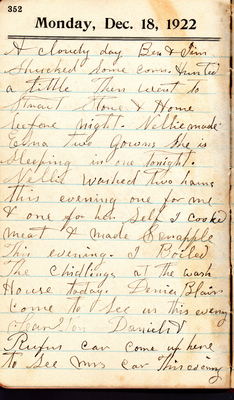 A cloudy day. Ben & Jim shucked some corn. Hunted a little then went to Strait Stone & home before night. Nellie made Edna two gowns. She is sleeping in one tonight. Nellie washed two hams this evening one for me & one for her self. I cooked meat & made scrapple this evening. I boiled the chidlings at the wash house today. Denia Blair come to see us this evening. Carlton Daniels & Rufus Car come up here to see Mrs Car this evening.
Last edit about 6 years ago by
mkstewart
1923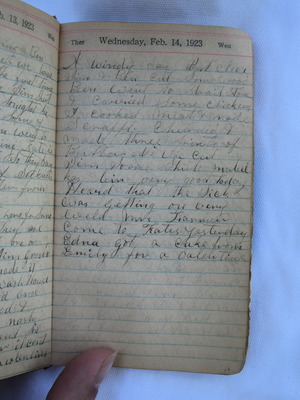 Last edit almost 8 years ago by
Nathani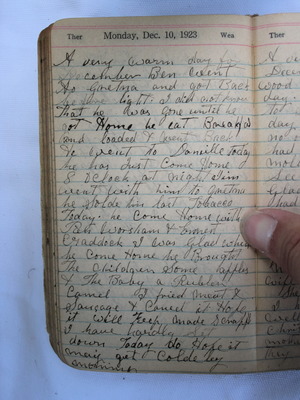 A very warm day for December. Ben went to Gretna and got back before light. I did not know that he was gone until he got home. He eat breakfast and loaded and went back. He went to Danville today. He has just come home 8 o'clock at night. Jim went with him to Gretna. He solde his last tobacco today. He come home with Ren Worsham and Emmet Craddock. I was glad when he come home. He brought the children some apples and the baby a rubber camel. I fried meat and sausage and caned it. Hope it will keep. Made scraple. I have hardly set down today. Do hope it may get colde by morning.
Last edit about 6 years ago by
Nathani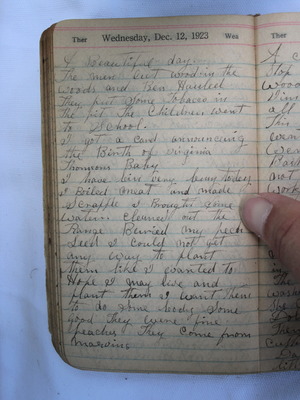 A beautiful day. The men cut wood in the woods and Ben hauled. They put some tobacco in the pit. The children went to school. I got a card announcing the birth of Virginia Thomson's baby. I have bin very busy today. I boiled meat and made scrapple. I brought some water, cleaned out the range, buried my pech seed. I could not get any way to plant them like I wanted to. Hope I may live and plant them. I want them to do some body some good. They were fine peaches. They come from Marvin's.
Last edit about 6 years ago by
Nathani