Search for onions*
1921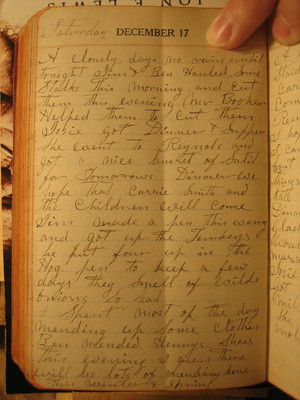 A cloudy day. No rain until tonight. Jim & Ben hauled some stalks this morning and cut them this evening. Mr Booker helped them to cut them. Josie got dinner & supper. She went to Reynols and got a nice bucket of salit for tomorrows dinner. We hope that Carrie Smith and the children will come. Jim made a pen this evening and got up the turkeys. He put four up in the hog pen to keep a few days. They smell of wilde onions so bad. I spent most of the day mending up some clothes. Ben mended Henrys shoes this evening. I guess there will be lots of mending done this winter & spring.
Last edit over 10 years ago by
Linda Tucker
1920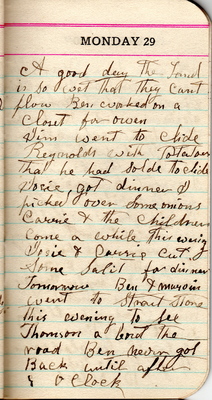 A good day. The land is so wet that they cant plow. Ben worked on a closet for Owen. Jim went to Clide Reynolds with potatoes that he had solde to Clide. Josie got dinner. I picked over some onions. Carrie & the children come a while this evening. Josie & Carrie cut some salit for dinner tomorrow. Ben & Marvin went to Strait Stone this evening to see Thomson a bout the road. Ben never got back until after 9 oclock.
Last edit about 10 years ago by
Linda Tucker
A rainy morning. We were all so glad. Quit raining and they planted tobacco. Irvin Hardey helped them for plants. I got breakfast & milked and fed the chickens then churned and fixed up the butter. Josie & I got dinner. I cooked some onions. The first we have cooked this year. I drawed plants all the evening. 9 oclock
Last edit almost 10 years ago by
Linda Tucker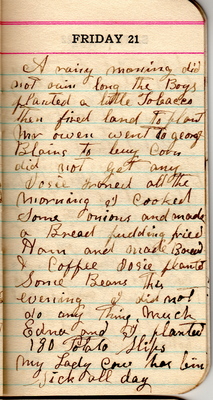 A rainy morning. Did not rain long. The boys planted a little tobacco then fixed land to plant. Mr Owen went to George Blairs to buy corn. Did not get any. Josie ironed all the morning. I cooked some onions and made a bread pudding, fried ham, and made bread & coffee. Josie planted some beans this evening. I did not do any thing much. Edna and I planted 180 potato slips. My lady cow has bin sick all day.
Last edit almost 10 years ago by
Linda Tucker
1922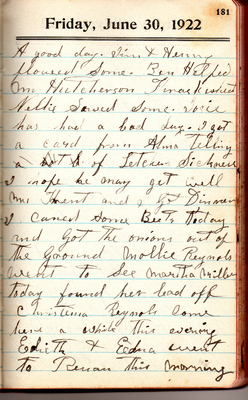 A good day. Jim & Henry plowed some. Ben helped Mr. Hutchenson [?] wheat. Nellie save some. Josie has had a bad day. I got a card from Alma telling [??] of [L?] sickness. I hope he may get well. Mrs. Trent and I got dinner. I churned some beets today and got the onions out of the ground. Mollie [Reynols?] went to see Martha Miller today. Found her had off. [Christina?] [Reynols?] come here a hill this evening. [Edieth?] & Edna went to [R?] this morning.
Last edit about 6 years ago by
gutterpeach2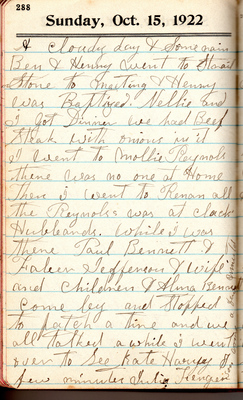 A cloudy day & some rain. Ben & Henry went to Strait Stone to meeting & Henry was baptized. Nellie and I got dinner. We had beef steak with onions in it. I went to Mollie Reynols. There was no one at home. Then I went to Renan. All the Reynols was at Clack Hubbards. While I was there Paul Bennett & Faber Jefferson & wife and children & Alma Bennet come by and stopped to patch a time and we all talked a while. I went over to see Kate Harvey a few minutes. Julia Fergerson come a few minutes.
Last edit almost 6 years ago by
mkstewart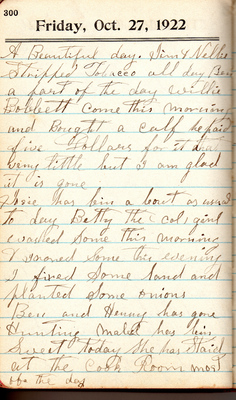 A beautiful day. Jim & Nellie stripped tobacco all day Ben a part of the day. Willie Bobbett come this morning and bought a calf. He paid five dollars for it. That very little but I am glad it is gone.
Josie has bin a bout as usual to day. Betty the (col) girl washed some this morning & ironed some this evening. I fixed some land and planted some onions. Ben and Henry has gone hunting. Mabel has bin sweet today. She has staid at the cook room most of the day.
Last edit almost 6 years ago by
mkstewart
1923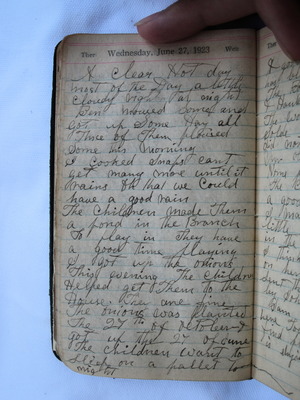 A clear hot day most of the day. A little cloudy right at night. Ben mowed some and got up some hay. All three of them plowed some this morning. I cooked snaps. Can't get many more until it rains. oh that we could have a good rain. The children made them a pond in the branch to play in. They have a good time playing. I got up the onions this evening. The children helped get them to the house. They are fine. The onions was planted the 27th of October and got up the 27 of June. The children want to sleep on a pallet to night.
Last edit over 6 years ago by
Nathani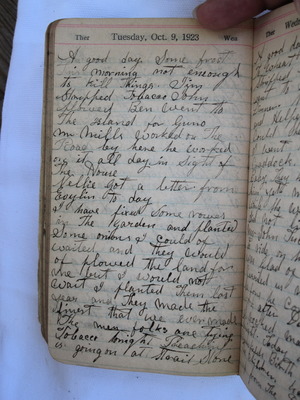 A good day. Some frost this morning. Not enough to kill things. Jim stripped tobacco. John plowed. Ben went to the Island for gu[a]no. Mr Mills worked on the road by here. He worked on it all day in sight of the house. Nellie got a letter from Evylin to day. I have fixed some rowes in the garden and planted some onions. I could of waited and they would of plowed the land for me but I would not wait. I planted them last year and they made the finest that we every made. The men folks are tying tobacco thnight. Preaching is going on at Strait Stone.
Last edit about 6 years ago by
Nathani