Search for "Bruce Reynolds" "Bruce Reynolds" Bruce*
1918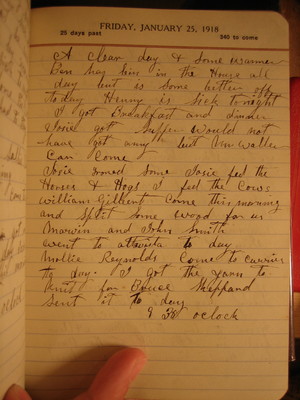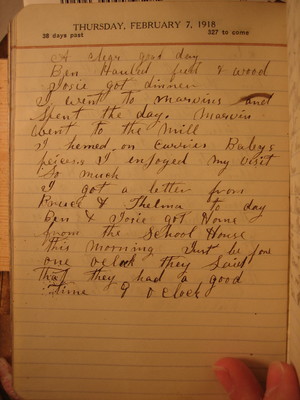 A clear good day.
Ben hauled feed and wood. Josie got dinner.
I went to Marvins and spent the day. Marvin went to the mill.
I hemed on Carries babys pieces. I enjoyed my visit so much.
I got a letter from Bruce and Thelma to day. Ben and Josie got home from the School House this morning just be fore one oclock. They said that they had a good time.
9 oclock
Last edit over 11 years ago by
Ben Brumfield
1920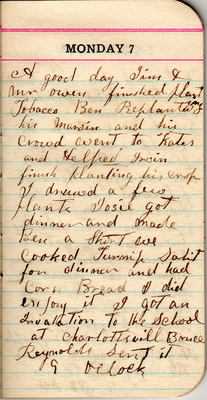 A good day. Jim & Mr Owen finished plant tobacco. Ben replanting his. Marvin and his crowd went to Kates and helped Irvin finish planting his crop. I drawed a few plants. Josie got dinner and made Ben a shirt. We cooked turnip salit for dinner and had corn bread. I did enjoy it. I got an invatation to the school at Charlottsvill. Bruce Reynolds sent it. 9 oclock
Last edit almost 10 years ago by
Linda Tucker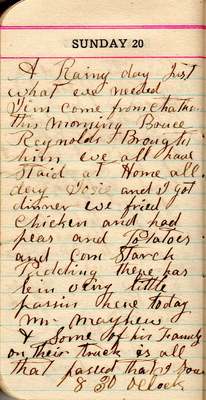 A rainy day. Just what we needed. Jim come from Chatham this morning. Bruce Reynolds brought him. We all have staid at home all day. Josie and I got dinner. We fried chicken and had peas and potatoes and corn starch pudding. There has bin very little passin here today. Mr Mayhew & some of his family on thier truck is all that passed that I saw. 8 30 oclock
Last edit almost 10 years ago by
Linda Tucker
1922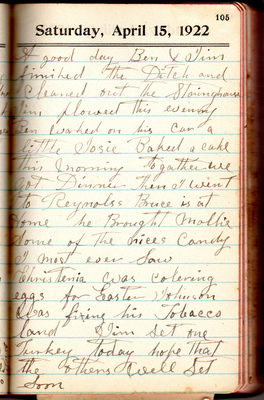 A good day Ben & Jim finished the ditch and cleaned out the springhouse. Jim plowed this evening. Ben worked on his car a little. Josie baked a cake this morning. Together we got dinner then I went to Reynols's. Bruce is at home. He brought Mollie some of the nices candy I most ever saw.
Christenia was colering eggs for Easter. Johnson was fixing his tobacco land. Jim set one turkey today. Hope that the others will set soon.
Last edit about 6 years ago by
mkstewart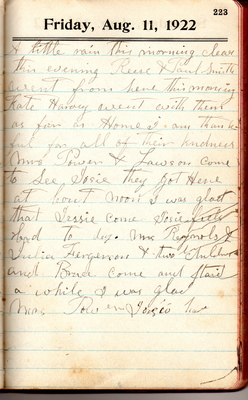 A little rain this morning clear this evening. Reese & Paul Smith went from here this morning. Kate Harvey went with them as far as home. I am thank ful for all of their kindness. Mrs Power & Lawson come to see Josie. They got here at bout noon. I was glad that Jessie come. Josie feels bad to day. Mrs Reynols & Julia Fergerson & two children and Bruce come and staid a while. I was glad. Mrs Power [Josie?] [...?]
Last edit about 6 years ago by
mkstewart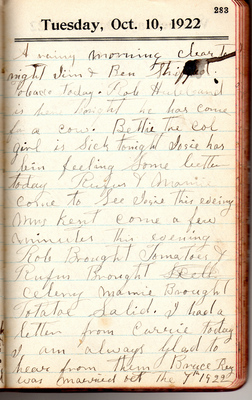 A rainy morning clear to night. Jim & Ben stripped tobacco today. Rob Hubbard is here tonight. He has come for a cow. Bettie the col girl is sick tonight. Josie has bin feeling some better today. Rufus & Mamie come to see Josie this evening. Mr Kent come a few minutes this evening. Rob brought tomatoes & Rufus brought celery. Mamie brought potatoe salid. I had a letter from Carrie today. I am always glad to hear from them. Bruce [Rey] was married Oct 7th 1922.
Last edit about 6 years ago by
mkstewart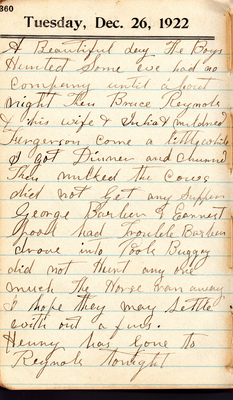 A beautiful day. The boys hunted some. We had no company until about night then Bruce Reynolds and his wife & Julia & Mildred Fergerson come a little while. I got dinner and churned then milked the cows. Did not get any supper. George Barber and Earnest Pool had trouble. Barber drove into Pools buggy. Did not hurt any one much. The horse ran away. I hope they may settle with out a fuss. Henry has gone to Reynols tonight.
Last edit about 6 years ago by
mkstewart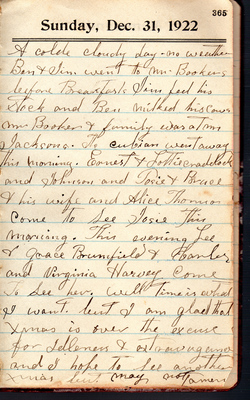 365 Sunday, Dec. 31, 1922 A colde cloudy day - no weather Ben & Jim went to Mr Bookers before breakfast Jim fed his stock and Ben milked his cows. Mr Booker & family was at Mrs Jacksons. The cubian[?] went away this morning. Ernest & Lottie Craddock and Johnson and Posie & Bruce & his wife and Alice Thomson come to see Josie this morning. This evening Lee & Grace Brumfield & Carles and Virginia Harvey come to see her. Well time is what I want. But I am glad that Xmas is over the excuse for idleness & extravagance and I hope to see another Xmas but may not/amen
Last edit about 6 years ago by
mkstewart
1923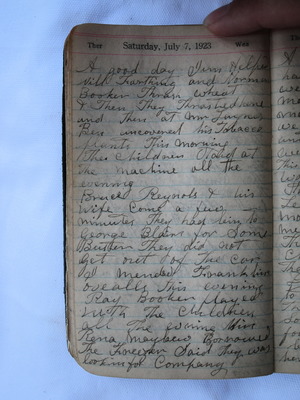 A good day. Jim helped [Will?] Farthing and Norman Booker thrash wheat and then they thrashed here and then then at Mr. Laynes. Ben uncovered his tobacco plants this morning. The children staid at the machine all the evening. Bruce Reynols and his wife come a few minutes. They had bin to George Blains for some butter. They did not get out of the car. I mended Franklin's overalls this evening. Ray Booker played with the children all the evening. Miss Rena Mayhew borrowed the freezer. Said they was lookin for company.
Last edit over 6 years ago by
Nathani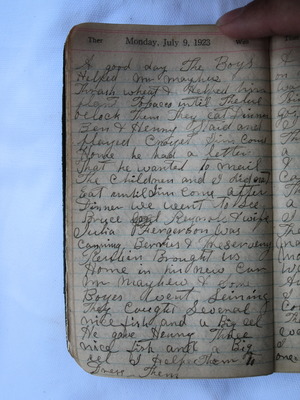 A good day. The boys helped Mr. Mayhew thrash wheat and helped him plant tobacco until twelve oclock. Then they eat dinner. Ben and Henry staid and played croqet. Jim come home. He had a letter that he wanted to mail. The children and I did not eat until Jim come. After dinner we went to see Bruce Reynols and wife. Julia Fergerson was canning berries and preserving. [Reubin?] brought us home in his new car. Mr. Mayhew and some boyes went seining. They caught several nice fish and a big eel. He gave Henry three nice fish and a big eel. I helped them to dress them.
Last edit over 6 years ago by
Nathani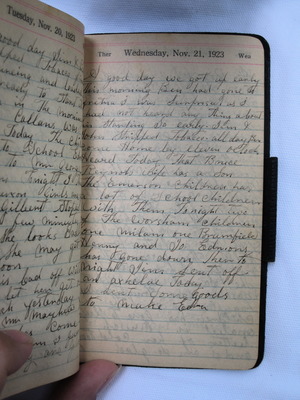 A good day. We got up early this morning. Ben had gone to Gretna . I was surprised as I had not heard any thing about his starting up so early. Jim and John stripped tobacco all day. Ben come home by eleven oclock. Heard today that Bruce Reynols wife has a son. The Emerson children has a lot of school children with them tonight. Two of the Worsham children one Milam one Brumfield. Henry and Jo Edmons has gone down there to night. Jim sent off an ax helve today. I sent some goods to make Edna[she stopped in midsentence]
Last edit about 6 years ago by
Nathani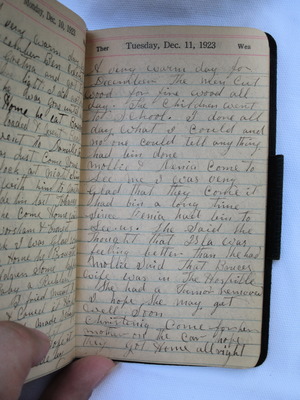 A very warm day for December The [wen?] cut wood. for fine wood all day. The children went to school. I done all day what I could and noone could tell any thing had bin done.
Mollie & [Dessia?] come to see me I was very glad that they come it had bin a long time since [Dessia?] had bin to see us. She said she thought that Isla was feeling better than she had Mollie said that Bruces wife was in the Hospitle she had a tumor removed I hope she may get well soon
[Christaniy?] come for her mother on the car hope thay got home allright
Last edit over 7 years ago by
rdrinkwater