Search for "Mrs Dews" "Mrs. Dews"
1918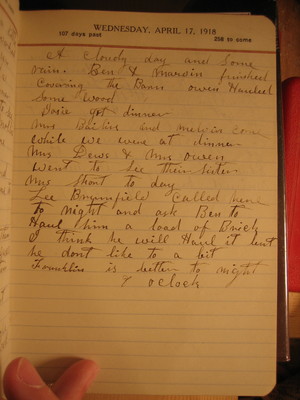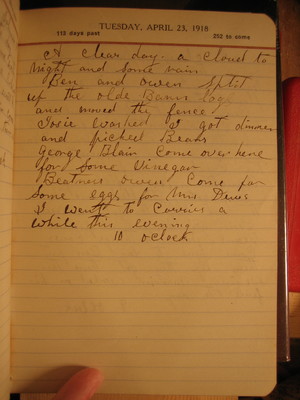 1919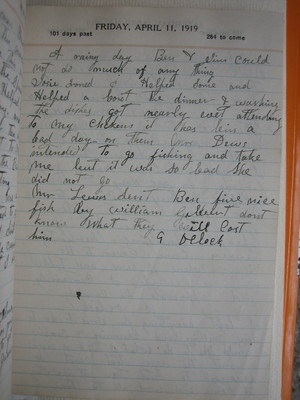 Last edit over 6 years ago by
dy957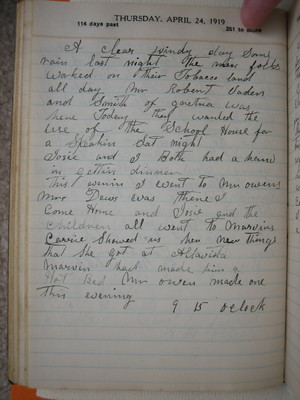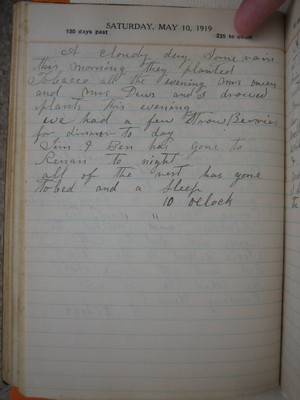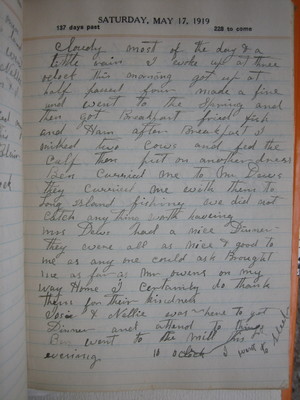 Cloudy most of the day & a little rain. I woke up at three oclock this morning. Got up at half passed four. Made a fire and went to the spring and then got breakfast fried fish and ham. After breakfast I milked two cows and fed the calf then put on another dress. Ben carried me to Mr Dews. They carried me with them to Long Island fishing. We did not catch any thing worth haveing.
Mrs Dews had a nice dinner. They were all as nice & good to me as any one could ask. Brought me as far as Mr Owens on my way home. I certainly do thank them for their kindness.
Josie & Nellie was here to get dinner and attend to things. Ben went to the mill this evening.
10 oclock
[Ink smear] I went to sleep.
Last edit over 6 years ago by
dy957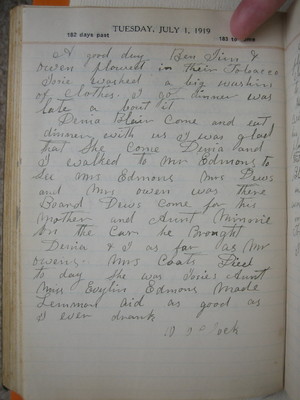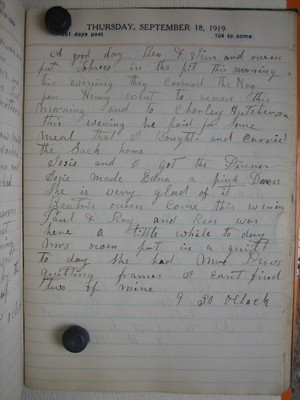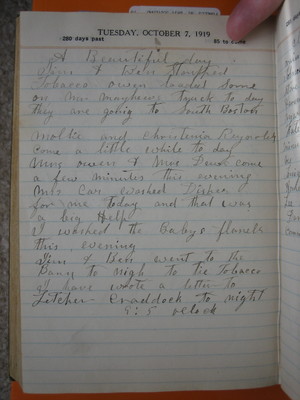 1920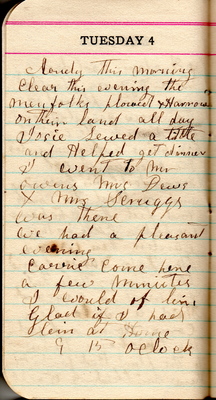 Cloudy this morning. Clear this evening. The men folks plowed & harrowed on their land all day. Josie sewed a little and helped get dinner. I went to Mr Owens. Mrs Dews & Mrs. Scruggs was there. We had a pleasant evening. Carrie come here a few minutes. I would of bin glad if I had bin at home.
9 15 oclock
Last edit about 10 years ago by
Linda Tucker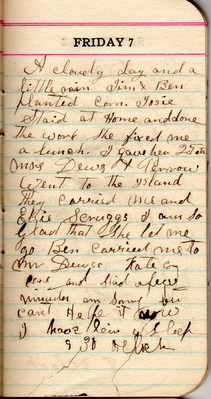 A cloudy day and a little rain. Jim & Ben planted corn. Josie staid at home and done the work. She fixed me a lunch. I gave her 25 cts. Mrs Dews & Terrow [?] went to the island. They carried me and Elsie Scruggs. I am so glad that she let me go. Ben carried me to Mr Dewss. Kate come and staid a few minutes. Am sorry but cant helpe it now. I have bin a sleep.
9 30 oclock
Last edit about 10 years ago by
Linda Tucker
1922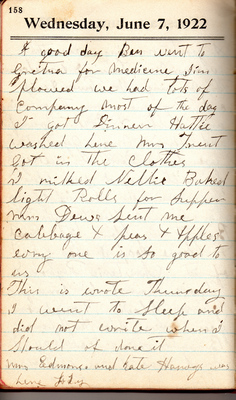 A good day. Ben went to [Gretna?] for medicine. Jim plowed we had lots of company most of the day [and] got dinner [...] washed [...] Mrs [Trent?] got in the clothes
I milked Nellie. Baked light rolls for supper Mrs [Dews?] sent me cabbages & peas * apples [every?] one is so good to us.
This is wrote Thursday. I went to sleep and did not write when I should of done it. Mrs [Edmonds?] and Kate [H?] was here today.
Last edit over 6 years ago by
mia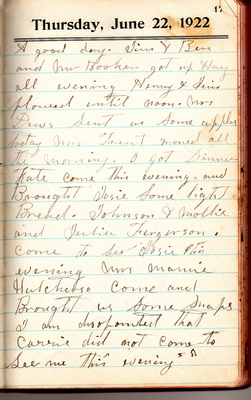 A good day. Jim & Ben and Mr. Booker got up with hay all evening. Henry & Jim plowed until noon. Mrs. Dews sent us some apples today Mrs. Trent [ironed?] all the morning. I got dinner. Kate come this evening and brought Josie some light bread. Johnson & Mollie and Julie Fergerson come to see Josie this evening. Mrs. Mamie Hutchenson come and brought us some snaps. I am diapointed that Carrie did not come to see me this evening.
Last edit over 6 years ago by
gutterpeach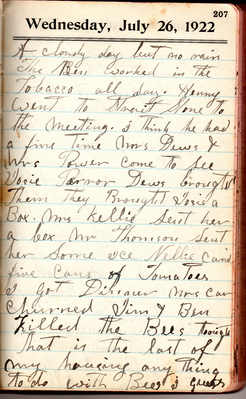 A cloudy day but no rain. The men worked in the tobacco all day. Henry went to Strait Stone to the meeting. I think he had a fine time. Mrs [Dews?] & Mrs Power come to see Josie. Farmor Dews brought them. They brought Josie a box. Mrs Kellie sent her a box. Mr Thomson sent her some ice. Nellie cand[sic] five cans of tomatoes. I got dinner. Mrs Car churned. Jim & Ben killed the bees tonight. That is the last of my having any thing to do with bees I guess.
Last edit about 6 years ago by
mkstewart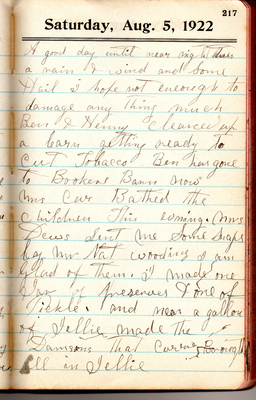 A good day until near night then a rain & wind and some hail. I hope not enough to damage any thing much. Ben & Henry cleared up a barn getting ready to cut tobacco. Ben has gone to Bookers barn now. Mrs Car bathed the children this evening. Mrs Dews sent me some snaps by Mr Nat Wooding. I am glad of them. I made one jar of preserves & one of pickle, and near a gallon of jellie made the damsons that Carrie brought all in jellie.
Last edit about 6 years ago by
mkstewart