Search for buttons*
1922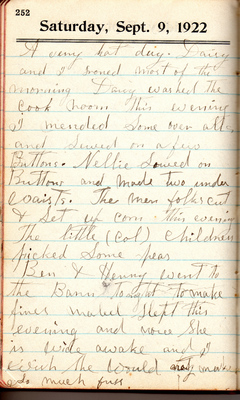 A very hot day. Daisy and I ironed most of the morning. Daisy washed the cook room this evening. I mended some over alls and sewed on a few buttons. Nellie sewed on buttons and made two under waists. The men folks cut & set up corn this evening. The little (col)[sic] children picked some peas.
Ben & Henry went to the barn tonight to make fines. Mabel slept this evening and now she is wide awake and I wish she would not make so much fuss.
Last edit almost 6 years ago by
mkstewart
1923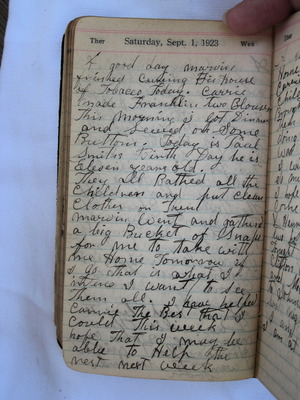 A good day. Marvin finished curing his house of tobacco today. Carrie made Franklin two blouses this morning. I got dinner and sewed on some buttons. Today is Paul Smiths birth day. He is eleven years old. They all bathed all the children and put clean clothes on them. Marvin went and gathered a big bucket of snaps for me to take with me home tomorrow if I go. That is what I intend. I want to see them all. I have helped Carrie the best that I could this week. Hope that I may be able to help the rest next week.
Last edit over 6 years ago by
Nathani