Search for pasture*
1920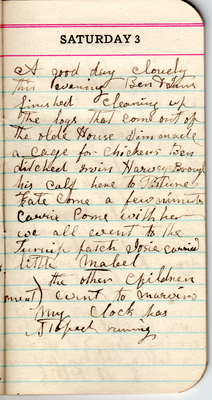 A good day. Cloudy this evening. Ben & Jim finished cleaning up the logs that come out of the olde house. Jim made a cage for chickens. Ben ditched. Irvin Harvey brought his calf here to pasture. Kate come a few minutes. Carrie come with her. We all went to the turnip patch. Josie carried little Mabel. The other children went to Marvins. My clock has stoped running.
Last edit over 10 years ago by
Linda Tucker
1922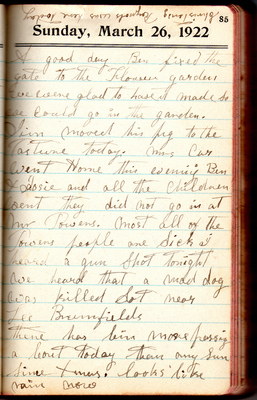 A good day. Ben fixed the gate to the flower garden. We were glad to have it made so we could go in the garden. Jim moved his pig to the pasture today. Mrs Car went home this evening. Ben & Josie and all the children went. They did not go in at Mr Powers. Most all of the Powers people are sick. I heard a gun shot tonight. We heard that a mad dog was killed. S[h]ot near Lee Brumfields.
There has bin more passing a bout today than any Sun[day] since Xmas. Looks like rain now.
Chris Tenigs Reynols was here today.
Last edit about 6 years ago by
mkstewart
1923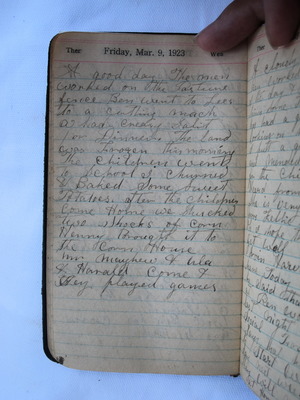 A good day. The men worked on the pasture fence. Ben went to Lee's to a [cutting mach?]. We had [creasy salit] for dinner. The land was frozen this morning. The children went to school. I churned and baked some sweet potatoes. Afther the children come home, we shucked two shocks of corn. Henry brought it to the corn house. Mr. Mayhew and Eula and Harold come and they played games.
Last edit over 7 years ago by
Nathani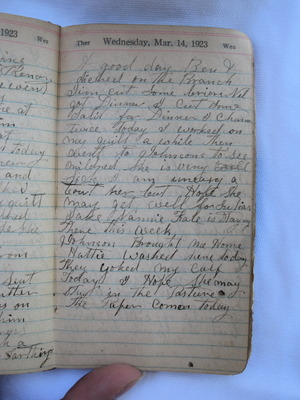 A good day. Ben and [sic] ditched on the branch. Jim cut some briers. Nel got dinner. I cut some salit for dinner. I churned twice today. I worked on my quilt a while. Then went to Johnsons to see Mildred. She is very sick. I am uneasy a bout her but hope she may get well for Julia's sake. Nannie [Fale?] is staying there this week. Johnson brought me home. Hattie washed here today. They yoked my calf today. I hope she may stay in the pasture. The paper come today.
Last edit over 7 years ago by
Nathani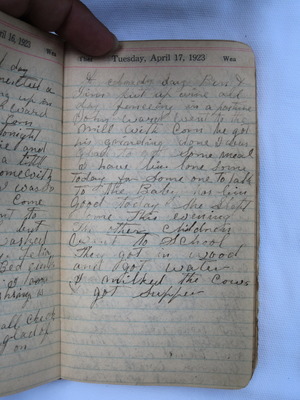 A cloudy day. Ben and Jim put up wire all day fencing in a pasture. John Ward went to the mill with corn. He got his grinding done. I was glad to get some meal. I have bin lone some today for some one to talk to. The baby has bin good today. She slept some this evening. The other children went to school. They got in wood and got water and milked the cows and got supper.
Last edit about 7 years ago by
Nathani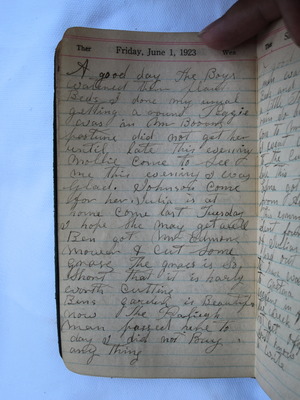 A good day. The boys watered their plant beds. I done my usual getting arond. Peggie was in Mr Bookers pasture. Did not get her until late this evening. Mollie come to see me this evening. I was glad. Johnson come for her. Julia is at home. Come last Tuesday. I hope she may get well. Ben got Mr. Edmons mower and cut some grass. The grass is so short that is is harly worth cutting. Bens garden is beautiful now. The Raleigh man passed here to day. I did not buy any thing.
Last edit almost 7 years ago by
Demo User