Search for "Mrs Mayhew" "Mrs Mayhew"
1918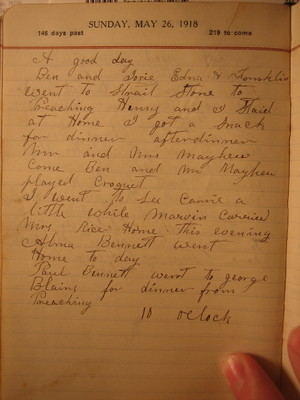 1919
38 Days Past 327 to come
A good day. Ben & Jim and Owen hauled some feed for the cows then stripped tobacco until twelve after dinner. They tramped a plant bed. Ben mended his fire place then we all stripped tobacco. Josie got dinner and ironed. The children Henry and Edna went to school. Franklin come to the barn to tell us dinner was ready. Reese come this morning & brought me some little aprons to work the button holes in. Mr Mayhew come at twelve to get Ben to phone for the doctor for Mrs Mayhew. Tonight Ben and Josie has gone to a dance at Mrs Gravelys. To night a pedlar come and wanted to stay all night. Ben would not let him. I was sorry for him.
9: o'clock
Last edit about 8 years ago by
Andrea
1920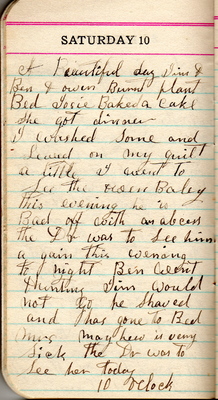 A beautiful day. Jim & Ben & Owen burnt plant bed. Josie baked a cake. She got dinner.
I washed some and sewed on my quilt a little. I went to see the Owen baby this evening. He is bad off with an abcess. The Dr was to see him a gain this evening. To night Ben went hunting, Jim would not go. He shaved and has gone to bed. Mrs Mayhew is very sick, the Dr was to see her today. 10 oclock
Last edit over 1 year ago by
Sara Brumfield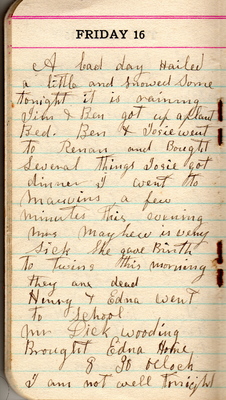 A bad day. Hailed a little and snowed some. Tonight it is raining. Jim & Ben got up a plant bed. Ben & Josie went to Renan and bought several things. Josie got dinner. I went to Marvin's a few minutes this evening. Mrs Mayhew is very sick. She gave birth to twins this morning. They are dead. Henry & Edna went to school. Mr. Dick Wooding brought Edna home. 8 30 oclock I am not well tonight.
Last edit over 10 years ago by
Neil Brumfield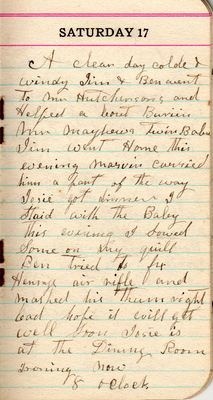 A clear day, cold & windy. Jim & Ben went to Mr Hutchersons and helped a bout buriin Mrs Mayhew's twin babies.
Jim went home this evening. Marvin carried him a part of the way.
Josie got dinner. I staid with the baby this evening. I sewed some on my quilt.
Ben tried to fix Henry's air rifle and mashed his thumb right bad, hope it will get well soon. Josie is at the dinning room ironing now.
8 oclock
Last edit about 8 years ago by
Demo User
1922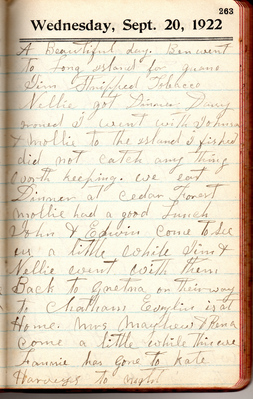 A beautiful day. Ben went to Long Island for guano. Jim stripped tobacco Nellie got dinner. Daisy ironed. I went with Johnson & Mollie to the island. I fished. Did not catch any thing worth keeping. We eat dinner at Cedar Forest. Mollie had a good lunch. John & Edwin come to see us a little while. Jim & Nellie went with them back to Gretna on their way to Chatham. [Evrylin?] is at home. Mrs Mayhew & Rena come a little while this eve. Fannie has gone to Kate Harveys to night.
Last edit about 6 years ago by
mkstewart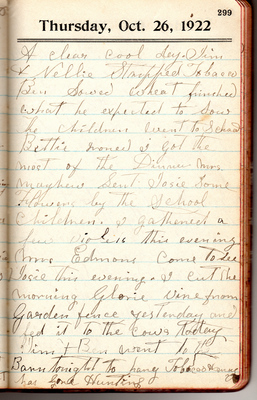 A clear cool day. Jim & Nellie stripped tobacco. Ben sowed wheat finished what he expected to sow. The children went to school. Bettie ironed. I got the most of the dinner. Mrs Mayhew sent Josie some flowers by the school children. I gathered a few violets this evening. MRs Edmons come to see Josie this evening. I cut the Morning Glorie vine from garden fence yesterday and fed it to the cows today. Jim & Ben went to the barn tonight to hang tobacco. Henry has gone hunting.
Last edit about 6 years ago by
mkstewart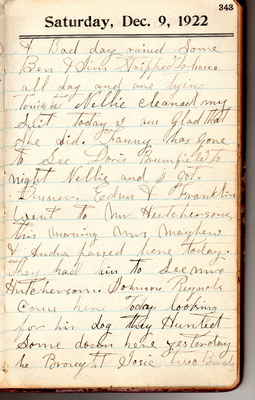 A bad day. Rained some. Ben & Jim stripped tobacco all day and are tying tonight. Nellie cleaned my suit today. I am glad that she did. Fanny has gone to see Doris Brumfield to night. Nellie and I got dinner. Edna & Franklin went to Mr Hutchersons this morning. Mrs Mayhew & [Audna?] passed here today. They had bin to see Mrs Hutcherson. Johnson Reynols come here today looking for his dog. They hunted some down here yesterday. He brought Josie two birds.
Last edit about 6 years ago by
mkstewart