Search for pit*
1919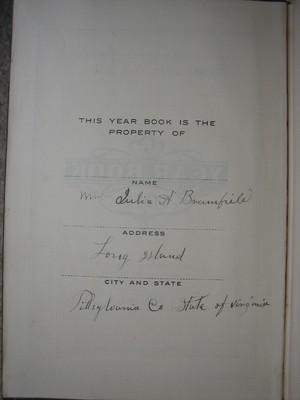 THIS YEAR BOOK IS THE PROPERTY OF
NAME
ADDRESS
CITY AND STATE
Pittsylvania Co State of Virginia
Last edit over 2 years ago by
Sara Brumfield
1921
1920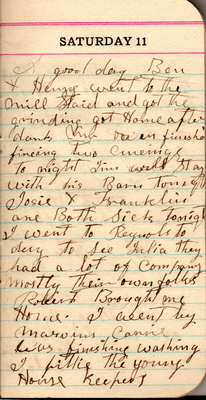 A good day. Ben & Henry went to the mill. Staid and got the grinding. Got home after dark. Mr Owen finished fireing two cureings. To night Jim will stay with his barn tonight. Josie & Franklin are both sick tonight. I went to Reynols to day to see Julia. They had a lot of company mostly their own folks. Robert brought me home. I went by Marvins. Carrie was finishing washing. I pittie the young house keepers.
Last edit over 9 years ago by
Linda Tucker
1922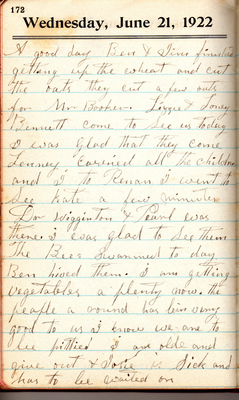 A good day. Ben & Jim finished getting the wheat and cut the oats. They cut a few oats for Mr. Booker. Lizzie & [Loney?] Bennett come to see us today. I was glad that they come. Lenney carried all the children and I to [Renan?]. I went to see Kate a few minutes. Dr. Wigginton & Pearl was there. I was glad to see them. The bees swarmed today. Ben hived them. I am getting vegetables a plenty now. The people around has bin very good to us. I know we are to be pittied. I am olde and give out & Josie is sick and has to be waited on.
Last edit over 6 years ago by
gutterpeach
1923
A beautiful day. I am at home tonight. Marvin brought me home this morning. Found them all getting on well. Some of them said that they did not miss me. I milked tonight. Franklin helped me what he could. The men folks are fixing to opossome hunting. Evelyn is going two for the lack of sence. She claims to be not able to work. After this she needs no pitty only because she has no more sence. Mr. Mayhew come up here today and got some mellons. They have a lot of them here now.
Last edit over 6 years ago by
Nathani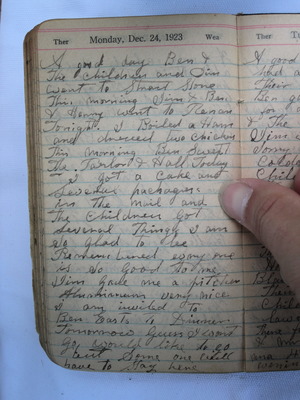 A good day. Ben and the children and Jim went to Strait Stone this morning. Jim and Ben and Henry went to Renan tonight. I boiled a ham and dressed two chickens this morning. Ben swept the parlor and hall today. I got a cake and several packages in the mail and the children got several things. I am so glad to be remembered. Every one is so good to me. Jim gave me a pitcher. Aluminum. Very nice. I am invited to Ben Easts to dinner tomorrow. Guess I won't go. Would like to go but some one will have to stay here.
Last edit about 6 years ago by
Nathani