Search for dance*
1919
38 Days Past 327 to come
A good day. Ben & Jim and Owen hauled some feed for the cows then stripped tobacco until twelve after dinner. They tramped a plant bed. Ben mended his fire place then we all stripped tobacco. Josie got dinner and ironed. The children Henry and Edna went to school. Franklin come to the barn to tell us dinner was ready. Reese come this morning & brought me some little aprons to work the button holes in. Mr Mayhew come at twelve to get Ben to phone for the doctor for Mrs Mayhew. Tonight Ben and Josie has gone to a dance at Mrs Gravelys. To night a pedlar come and wanted to stay all night. Ben would not let him. I was sorry for him.
9: o'clock
Last edit over 7 years ago by
Andrea
1920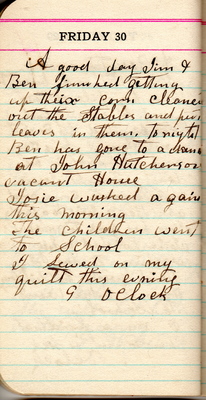 A good day. Jim & Ben finished getting up their corn, cleaned out the stables, and put leaves in them. To night Ben has gone to a dance at John Hutcherson's vacant house. Josie washed again this morning. The children went to school. I sewed on my quilt this evening. 9 oclock
Last edit about 10 years ago by
Neil Brumfield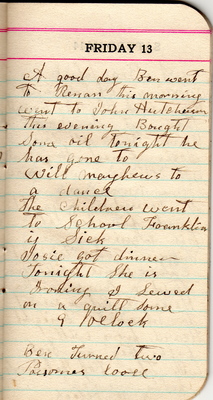 A good day. Ben went to Renan this morning. Went to John Hutcherson this evening. Bought some oil. Tonight he has gone to Will Mayhews to a dance. The children went to school. Franklin is sick. Josie got dinner. Tonight she is ironing. I sewed on a quilt some.
9 oclock
Ben turned two possomes loose.
Last edit about 10 years ago by
Linda Tucker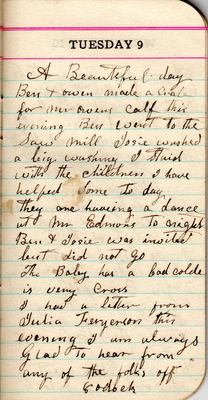 A beautiful day. Ben & Owen made a crate for Mr. Owens calf. This evening Ben went to the saw mill. Josie washed a big washing. I staid with the children. I have helped some to day. They are haveing a dance at Mr. Edmons to night. Ben & Josie was invited but did not go. The baby has a bad colde. Is very cross. I had a letter from Julia Fergerson this evening. I am always glad to hear from any of the folks off.
8 oclock
Last edit almost 10 years ago by
Linda Tucker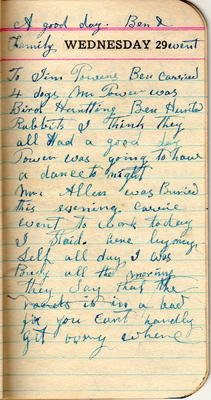 A good day. Ben & family went to Jim Powers. Ben carried 4 dogs. Mr Power was bird huntting. Ben hunted rabbits. I think they all had a good day. Power was going to have a dance to night. Mrs Allen was buried this evening. Carrie went to work today. I staid here by my self all day. I was busy all the morning. They say that the roads is in a bad fix. You cant hardly get every where.
Last edit about 9 years ago by
Linda Tucker