Search for Edna* Ednas* "Edna Brumfield"
1923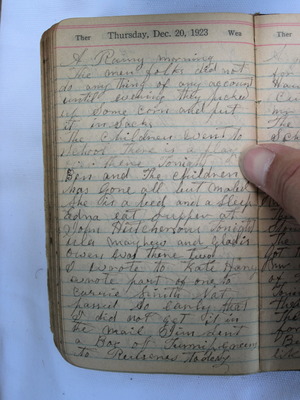 A rainy morning. The men folks did not do any thing of any account until evening. They picked up some corn and put it in sacks. The children went to school. There is a play over there tonight. Ben and the children has gone all but Mabel. She is a bed and a sleep. Edna eat supper at John Hutcherson's tonight. [E]Ula Mayhew and Gladis Owen was there two. I wrote to Kate Harvey. Wrote part of one to Carrie Smith. Nat passed so early that I did not get it in the mail. Jim sent a box of turnip greens to Ruben's today.
Last edit about 6 years ago by
Nathani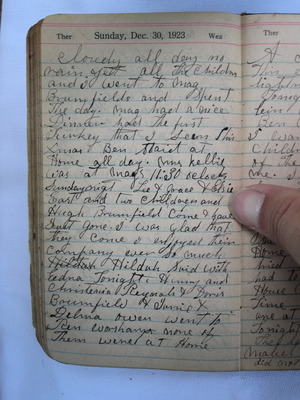 Cloudy all day. No rain yet. All the children and I went to Mag Brumfield's and spent the day. Mag had a nice dinner. Had the first turkey that I seen this Xmas. Ben staid at home all day. Mrs. Kellie was at Mag's. 11:30 o'clock Sunday night. Lee and Grace and Elsie East and two children and Hugh Brumfield come and have just gone. I was glad that they come. I enjoyed their company ever so much. Hildah staid with Edna tonight. Henry and Christenia Reynols and Doris Brumfield and Jamie and Delma Owen went to Ren Worsham's. None of them were at home.
Last edit about 6 years ago by
Nathani