1922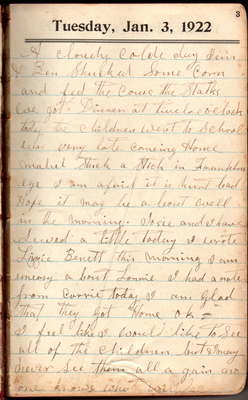 A cloudy colde day. Jim & Ben shucked some corn and fed the cows the stalks. We got dinner at twelve oclock today. The children went to school was very late comeing home. Mabel stuck a stick in Franklins eye. I am afraid it is hurt bad. Hope it may be a bout well in the morning. Josie and I have sewed a little today. I wrote Lizzie Benett this morning. I am uneasy a bout Lonnie. I had a note from Carrie today. I am glad that they got home ok. I feel like I would like to see all of the children but I may never see them all a gain. No one knows what will be.
Last edit over 6 years ago by
mkstewart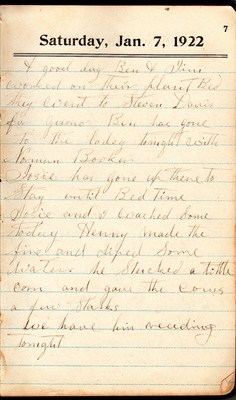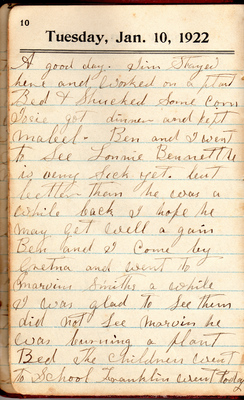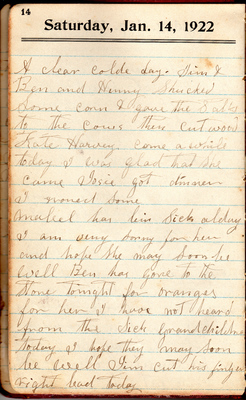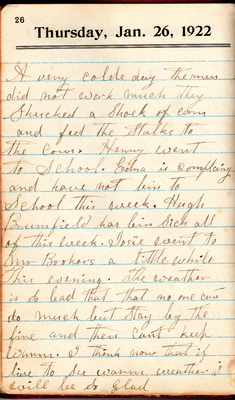 A very colde day. The men did not work much. They shucked a shock of corn and fed the stalks to the cows. Henry went to school. Edna is complainy and have not bin to school this week. Hugh Brumfield has bin sick all of this week. Josie went to Mr Bookers a little while this evening. The weather is so bad that that no one can do much but stay by the fire and then cant keep warm. I think now that if live to see warm weather I will be so glad.
Last edit over 6 years ago by
mkstewart