1923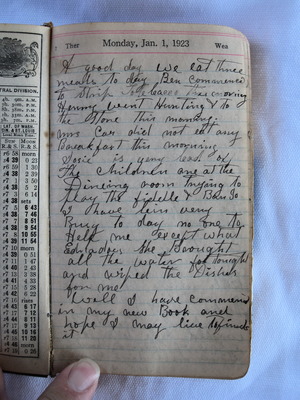 A good day. We eat three meals to day. Ben commenced to strip tobacco this morning. Henry went hunting & to the store this morning.
Mrs Car did not eat any breakfast this morning.
Josie is very bad off.
The children are at the dining room trying to play the fiddle & banjo.
I have bein very busy to day no one to help me except what Edna does. She brought all the water for tonight and wiped the dishes for me.
Well I have commenced in my new book and hope I may live to finis[h] it.
Last edit over 2 years ago by
Sara Brumfield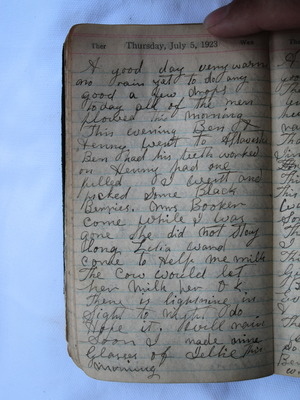 A good day. Very Warm. No rain yet to do any good. A few drops to day. All of the men plowed this morning. This evening Ben and Henry went to Altavista. Ben had his teeth worked on. Henry had one pulled. I went and picked some black berries. Mrs Booker come while I was gone. She did not stay long. Lelia Ward come to help me milk. The cow would let her milk her ok. There is lightning in sight to night. Do hope it will rain soon. I made nine glasses of jellie this morning.
Last edit over 7 years ago by
Ben W. Brumfield