1922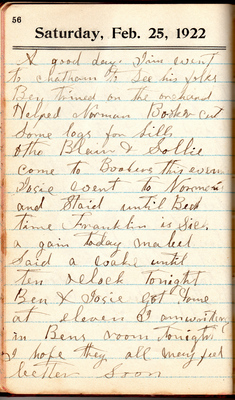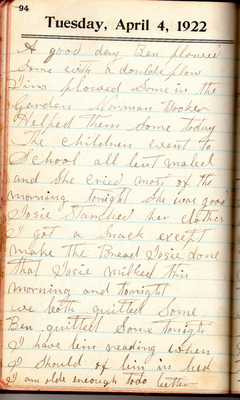 A good day. Ben plowed some with a double plow. Jim plowed some in the garden. Norman Booker helped them some today. The children went to school all but Mabel and she cried most of the morning. Tonight she was good. Josie starched her clothes. I got a snack except make the bread. Josie done that. Josie milked this morning and tonight we both quilted some. Ben quilted some tonight. I have bin reading when I should of bin in bed. I am olde eneough to do better.
Last edit about 6 years ago by
mkstewart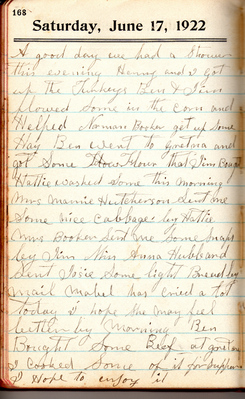 1923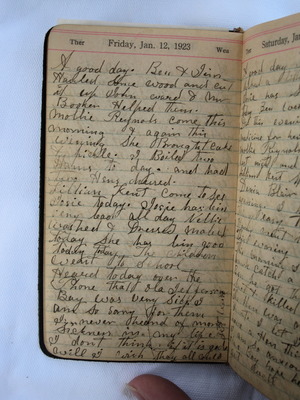 A good day. Ben & Jim hauled some wood and cut it with John Ward and Mr. Booker helped them. Mollie Reynolds come this morning and again this evening. She brought cake and pickle. I boiled two hams to day and had two hens cleaned. Lillian Kent come to see Josie today. Josie has bin very bad all day. Nellie washed and dressed Mabel (?) today. She has bin good today. Today the children went to School. Heared today over the phone that Ola Jefferson's boy was very sick. I am so sorry for them. I never heared of more sickness in my life. I don't think it is God's will. I wish they all could get well.
Last edit about 6 years ago by
mkstewart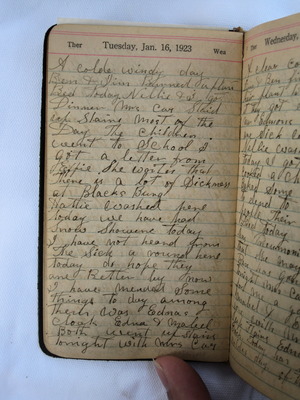 Last edit almost 8 years ago by
Nathani