1923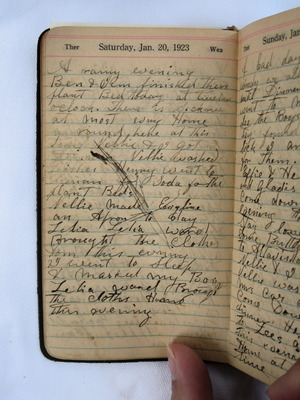 A rainy evening. Ben and Jim finished their plant bed today at twelve o'clock. There is sickness at most every home around here at this time. Nellie and I got dinner. Nellie washed dishes. Henry went to Renan for soda for the plant beds. Nellie made Evyline an apron to day. Lelia Ward brought the clothes home this evening. I went to sleep and marked my book. Letia Ward brought the clothes home this evening.
Last edit over 6 years ago by
mkstewart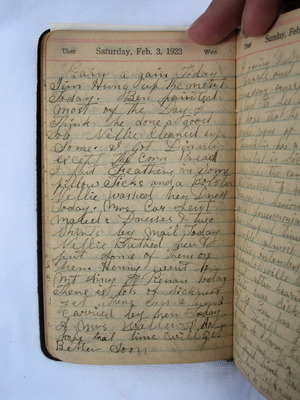 Last edit over 8 years ago by
Nathani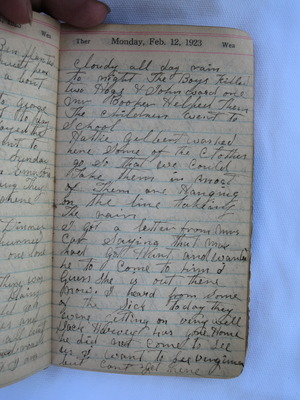 Cloudy all day. Rain tonight. The boys killed two hogs and John Ward one. Mr. Booker helped them. The children went to school.
Hattie Gilbert washed here some of the the clothes ?? so that we could take them in. Most of the are hanging on the line taking the rain. I got a letter from Mrs. Carr saying that Max had got hurt and wanted he to come to him. I guess she is out there now. I heard from some of the sick today. They were getting on very well. Jack Harvey has gone home. He did not come to see us. I want to see Virginia but can't get there.
Last edit over 6 years ago by
mkstewart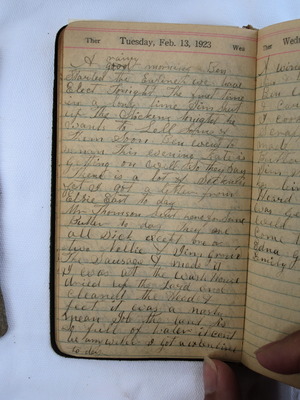 A rainy morning. Ben started the engine. We have elect tonight. The first time in a long time. Jim shut up the chickens tonight. He wants to sell some of them soon. Ben went to Renan this evening. Kate is getting on well so they say. There is a lot of sickness yet. I got a letter from Elsie East today.
Mr. Thomson sent here for some butter today. They are all sick except for one or two. Nellie and Jim ground the sausage and made it . I was at the wash house. [??iled] up the lard and cleaned the heads and feet. It was a nasty mean job. The lard is so full of water. It can't be any wetter. I got a valentine today.
Last edit over 8 years ago by
Nathani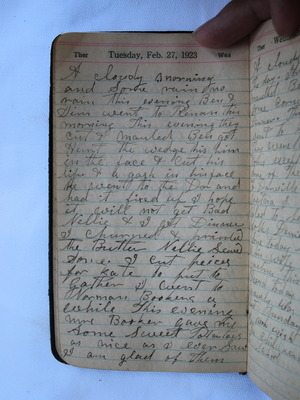 Last edit over 3 years ago by
Trisha