1918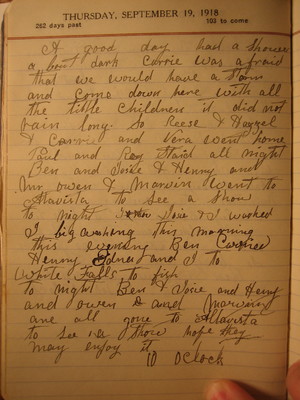 A good day. Had a shower a bout dark. Carrie was afraid that we would have a storm and come down here with all the little children. It did not rain long so Reese and Hazel and Carrie and Vera went home. Paul and Roy staid all night.
Ben and Josie and Henry and Mr Owen and Marvin went to Altavista to see a show to night. Josie and I washed a big washing this morning.
This evening Ben carried Henry Edna and I to White Falls to fish.
To night Ben and Josie and Henry and Owen and Marvin are all gone to Altavista to see a show. Hope they may enjoy it.
10 oclock
Last edit about 11 years ago by
Ben Brumfield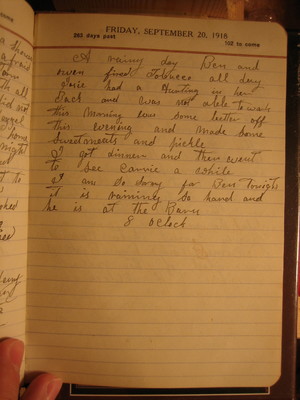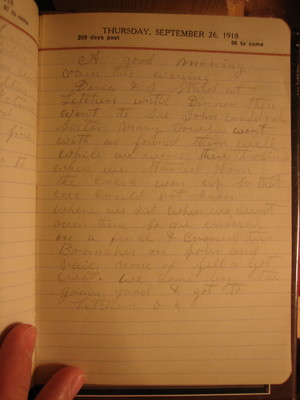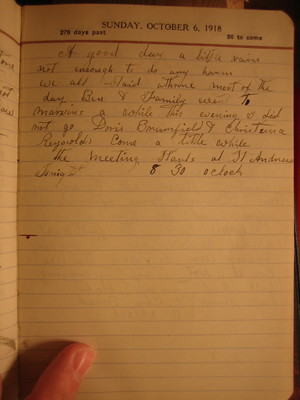 A good day. A little rain not enought to do any harm. We all staid at home most of the day. Ben and family went to Marvins a while this evening. I did not go. Doris Brumfield and Christine Reynolds come a little while.
The meeting starts at St Andrews tonight.
8 30 oclock
Last edit about 11 years ago by
Ben Brumfield