1918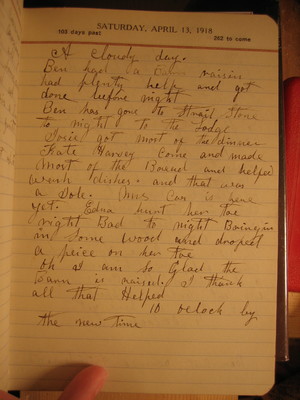 A cloudy day.
Ben had a barn raisin had plenty help and got done before night.
Ben has gone to Strait Stone to night to the lodge.
Josie got most of the dinner. Kate Harvey come and made most of the bread and helped wash dishes and that was a job. Mrs Carr is here yet. Edna hurt her toe right bad to night bringin in some wood and dropped a piece on her toe.
Oh I am so glad the barn is raised. I thank all that helped.
10 oclock by the new time
Last edit over 10 years ago by
Ben Brumfield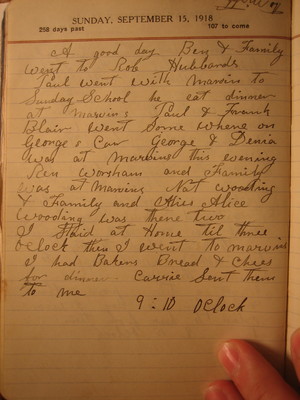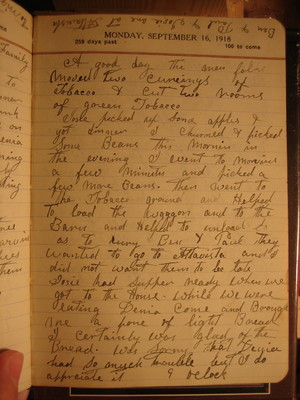 A good day. The men folks moved two curings of tobacco and cut two rooms of green tobacco.
Josie picked up some apples and got dinner. I churned and picked some beans this morning. In the evening I went to Marvins a few minutes and picked a few more beans then went to the tobacco ground and helped to load the waggon and to the barn and helped to unload so as to hurry Ben and Paul. They wanted to go to Altavista and I did not want them to be late.
Josie had supper ready when we got to the house. While we were eating, Denia come and brought me a pan of light bread. I certainly was glad of the bread. Was sorry that Denia had so much trouble but I do appreciate it.
9 oclock
Ben and Paul and Josie are at Altavista tonight.
Last edit over 11 years ago by
Ben Brumfield