1918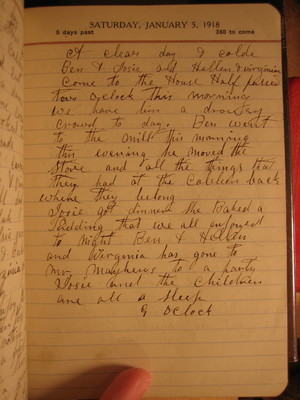 A clear day and colde. Ben and Josie and Hellen and Virginia come to the house half past two oclock this morning. We have bin a drowsy crowd to day. Ben went to the mill this morning. This evening he moved the stove and all the things that they had at the cabbin back where they belong.
Josie got dinner. She baked a pudding that we all enjoyed. To night Ben and Hellen and Virginia has gone to Mr Mayhews to a party. Josie and the children are all a sleep.
9 oclock
Last edit over 11 years ago by
Ben W. Brumfield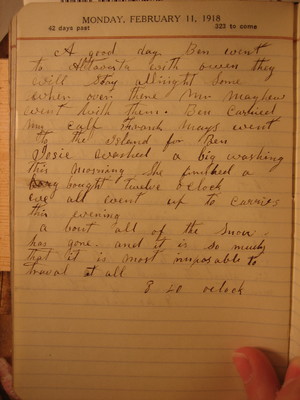 A good day. Ben went to Altavista with Owen. They will stay allnight some where over there. Mr Mayhew went with them. Ben carried my calf. Frank Mays went to the Island for Ben.
Josie washed a big washing this morning. She finished a bought twelve oclock.
We all went up to Carries this evening.
A bout all of the snow has gone and it is so muddy that it is most impossible to travel at all.
8 40 oclock
Last edit about 12 years ago by
Ben W. Brumfield