1918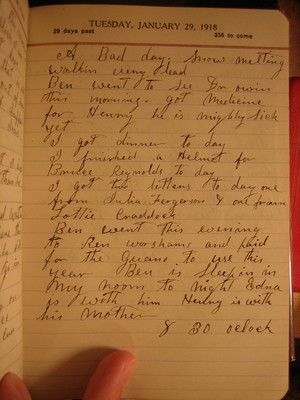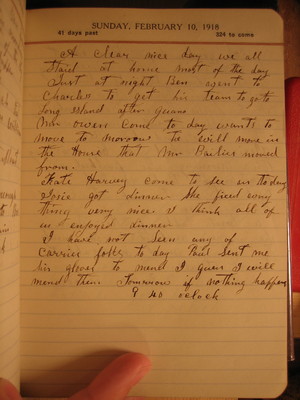 A clear nice day. We all staid at home most of the day. Just at night Ben went to Charless to get his team to go to Long Island after guano.
Mr Owen come to day wants to move to morrow. He will move in the house that Mr Bailiss moved from.
Kate Harvey come to see us to day. Josie got dinner. She fixed every thing very nice. I think all of us enjoyed dinner.
I have not seen any of Carries folks to day. Paul sent me his gloves to mend. I guess I will mend them tomorrow if nothing happens.
9 40 oclock
Last edit almost 12 years ago by
Ben Brumfield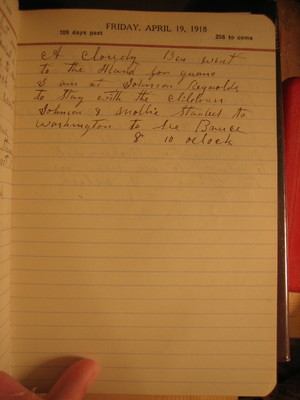 1919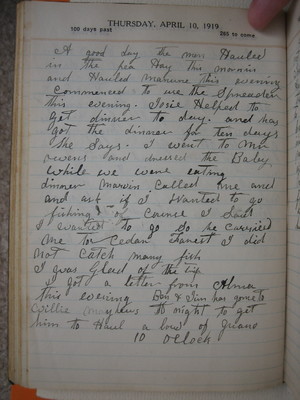 Last edit almost 7 years ago by
dy957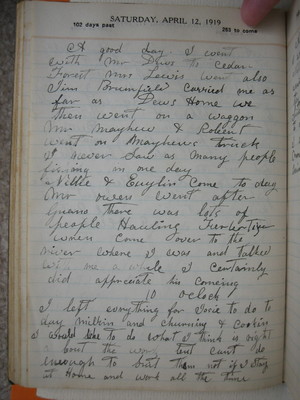 A good day. I went with Mr Dews to Cedar Forest. Mrs Lewis went also. Jim Brumfield carried me as far as Dews home. We then went on a waggon. Mr Mayhew & Robert went on Mayhews truck. I never saw as many people fishing on one day.
Mr. Owen went after guano. There was lots of people hauling fertilizer.
Wren come over to the river where I was and talked with me a while. I certainly did appreciate his comeing.
10 oclock
I left everything for Josie to do to day. Milkin and churning & cookin. I would like to do what I think is right a bout the work but cant do enough to suit them not if I stay at home and work all the time.
Last edit almost 7 years ago by
dy957