Geek Weekly #2 [November Food'n'Fun issue]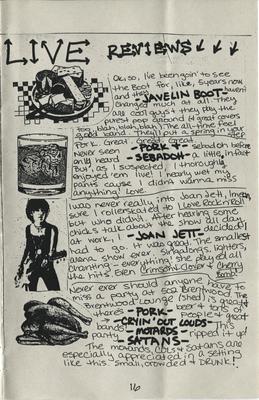 LIVE REVIEWS
[images of a cheese plate, a highball cocktail, Joan Jett, and a roasted turkey]
JAVELIN BOOT Ok, so I've been goin' to see the Boot for, like, 5 years now and they haven't changed much at all. They are cool guys & they play the purest pop around (& great covers too, blah, blah, blah). The all-time feel good band. They'll put a spring in your step.
PORK & SEBADOH Pork. Great. Great. Great. Never seen Sebadoh before only heard a little in fact But, as I suspected, I thoroughly enjoyed 'em live! I nearly wet my pants cause I didn't wanna miss anything. Love.
JOAN JETT I was never really into Joan Jett, I mean, sure I rollerskated to I Love Rock'n'Roll but who didn't. After hearing some chicks talk about the show all day at work, I decided I had to go. It was great. The smallest arena show ever. Singalongs, lighters, chanting - everything! She played all the hits. Even Crimson & Clover & Cherry Bomb!
PORK CRYIN' OUT LOUDS MOTARDS SATANS Never ever should anyone have to miss a party at 502 Brentwood. The Brentwood Lounge (shed) is great & there's beer & tons of people & great bands! This party ripped it up! The Motards, COLs & Satans are especially appreciated in a setting like this. Small, crowded & DRUNK!
16
Last edit about 4 years ago by
Jennifer Hecker