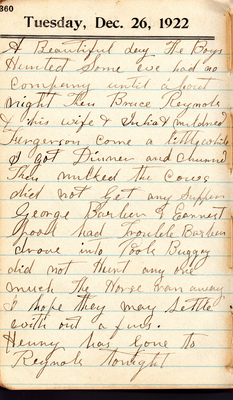 A beautiful day. The boys hunted some. We had no company until about night then Bruce Reynolds and his wife & Julia & Mildred Fergerson come a little while. I got dinner and churned then milked the cows. Did not get any supper. George Barber and Earnest Pool had trouble. Barber drove into Pools buggy. Did not hurt any one much. The horse ran away. I hope they may settle with out a fuss. Henry has gone to Reynols tonight.
Last edit about 6 years ago by
mkstewart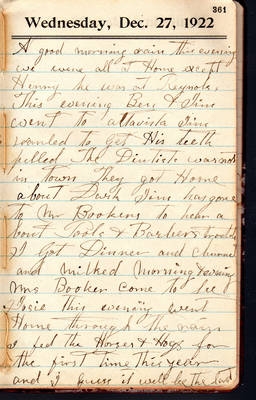 A good morning again. This evening we were all at home except Henry. He was at Reynols. This evening Ben and Jim went to Altavista. Jim wanted to get his teeth pulled. The dentist was not in town. They got home about dark. Jim has gone to Mr. Bookers to hear about Pools and Barbers troubles. I got dinner and churned and milked morning & evening. Mrs Booker came to see Josie this evening. Went home through the rain. I fed the horses and hogs for the first time this year and I guess it will be the last.
Last edit about 6 years ago by
mkstewart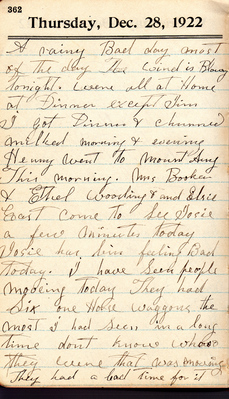 A rainy bad day most of the day. The wind is blowing tonight. Were all at home at dinner except Jim. I got dinner & churned. Milked morning and evening. Henry went to Mount Amy this morning. Mrs. Booker and Ethel Wooding and Elsie East come to see Josie a few minutes today. Josie has bin feeling bad today. I have seen people moveing today. They had six one horse wagons. The most I had seen in a long time. Dont know who they were that was moveing. They had a bad time for it.
Last edit about 6 years ago by
mkstewart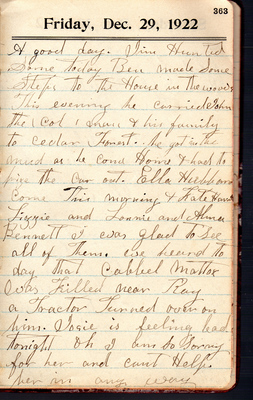 A good day. Jim hunted some today. Ben made some steps to the house in the wood. This evening he carried John (the col man) and his family to Cedar Forest. He got in the mud as he come home and had to prize the car out. Ella Hubbard come this morning and Kate [?] and Lizzie and Lonnie and Alma Bennett. I was glad to see all of them. We heard today that Cabbel Mattox was killed near Ray. A tractor turned over on him. Josie is feeling bad tonight. Oh I am so sorry for her and can't help her in any way.
Last edit about 6 years ago by
mkstewart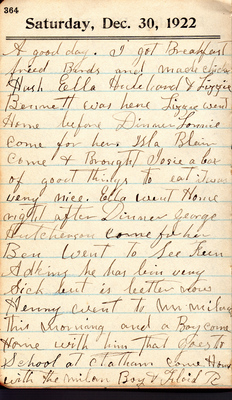 A good day. I got breakfast. Fried birds and made chicken hash. Ella Hubbard and Lizzie Bennett was here. Lizzie went home before dinner. Lonnie come for her. Isla Blair come and brought Josie a box of good things to eat. It was very nice. Ella went home right after dinner. George Hutcherson come for her. Ben went to see Ken Adkins, he has been very sick but is better now. Henry went to Mr [Milans?] this morning and a boy came home with him that goes to school at Chatham come home with the [Milan?] boy and Floid R.
Last edit about 6 years ago by
mkstewart