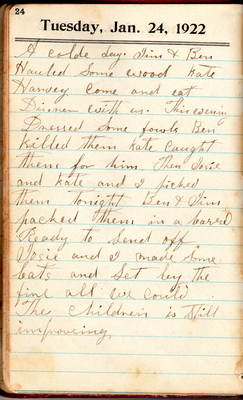 A colde day. Jim & Ben hauled some wood. Kate Harvey come and eat dinner with us. This evening dressed some fowls. Ben killed them. Kate caught them for him. Then Josie and Kate and I picked them tonight. Ben and Jim packed them in a barrel. Ready to send off. Josie and I made some bats and set by the fire all we could. The children is still improveing.
Last edit over 6 years ago by
mkstewart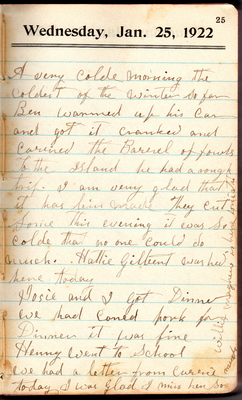 A very colde morning. The coldest of the winter so far. Ben warmed up his car and got it cranked and carried the barrel of fowls to the island. He had a rough trip. I am very glad that it has bin made. They cut some this evening. It was so colde that no one could do much. Hattie Gilbent washed here today
Josie and I got dinner. We had caned pork for dinner. it was fine Henry went to school We had a letter from Carrie today. I was glad. I miss her so much. Willie Mayhew is here tonight
Last edit over 6 years ago by
mkstewart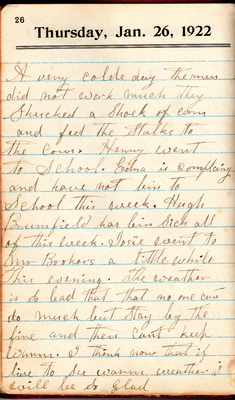 A very colde day. The men did not work much. They shucked a shock of corn and fed the stalks to the cows. Henry went to school. Edna is complainy and have not bin to school this week. Hugh Brumfield has bin sick all of this week. Josie went to Mr Bookers a little while this evening. The weather is so bad that that no one can do much but stay by the fire and then cant keep warm. I think now that if live to see warm weather I will be so glad.
Last edit over 6 years ago by
mkstewart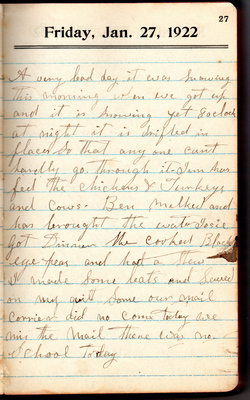 A very bad day it was snowing this morning when we got up and it is snowing yet 8 o clock at night. It is drifted in places so that any one cant hardly go through it. Jim has fed the chicken & turkeys and cows. Ben milked and has brought the water. Josie got dinner. She cooked black eye peas and had a stew. I made some bats and sewed on my quilt some. Our mail carrier did no come today. We mis the mail. There was no school today.
Last edit over 6 years ago by
mkstewart