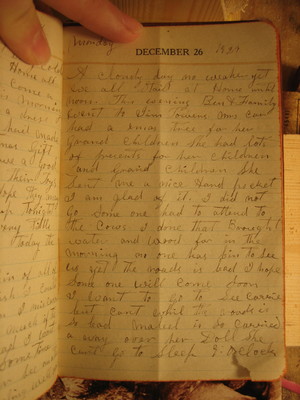 A cloudy day. No weather yet. We all staid at home until noon. This evening Ben & family went to Jim Powers. Mrs Car had a Xmas tree for her grand children. She had lots of presents for her children and grand children. She sent me a nice hand pocket. I am glad of it. I did not go. Some one had to attend to the cows. I done that. Brought water and wood for in the morning. No one has bin to see us yet. The roads is bad. I hope some one will come soon. I want to go to see Carrie but cant whil the roads is so bad. Mabel is so carried a way over her doll she cant go to sleep. 9 oclock
Last edit about 11 years ago by
Linda Tucker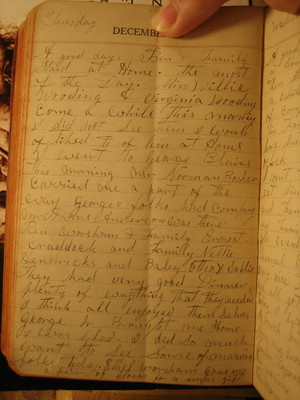 A good day. Ben & family staid at home the most of the day. Miss Willie Wooding & Virginia Wooding come a while this morning. I did not see them. I would of liked to of bin at home. I went to George Blairs this morning. Mr Norman Booker carried me a part of the way. Georges folks had company. Mr & Mrs Anderson was there. Ren Worsham & family, Ernest Craddock and family, Nettie Hendricks and baby, Otho & Sallie. They had very good dinner. Plenty of everything that they needed. I think all enjoyed them selves. George Jr[?] brought me home. I was glad. I did so much want to see some of Marvins folks today. Ethel Worsham gave me a pair of gloves for a Xmas gift.
Last edit about 11 years ago by
Linda Tucker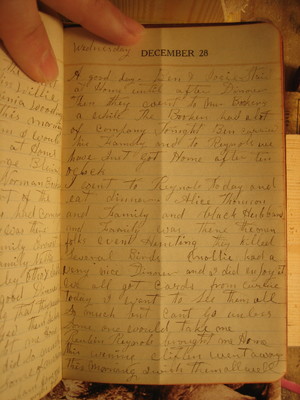 A good day. Ben & Josie staid at home until after dinner then they went to Mr Bookers a while. The Bookers had a lot of company. Tonight Ben carried his family and to Reynols. We have just got home after ten oclock. I went to Reynols today and eat dinner. Alice Thomson and family and Clack Hubbard and family was there. The men folks went hunting. They killed several birds. Mollie had a very nice dinner and I did enjoy it. We all got cards from Carrie today. I want to see them all so much but cant go unless some one would take me. Reubin Reynols brought me home this evening. Cliften went away this morning. I wish them all well.
Last edit about 11 years ago by
Linda Tucker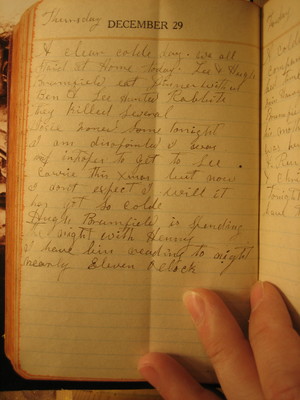 A clear colde day. We all staid at home today. Lee & Hugh Brumfield eat dinner with us. Ben & Lee hunted rabbits. They killed several. Josie ironed some tonight. I am disapointed. I was in hopes to get to see Carrie this Xmas but now I dont expect I will. It has got so colde. Hugh Brumfield is spending the night with Henry. I have bin reading to night. nearly eleven oclock
Last edit about 11 years ago by
Linda Tucker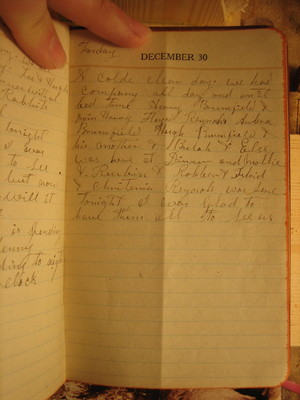 A colde clear day. We had company all day and until bed time. Henry Brumfield & Irvin Harvey, Floyed Reynols, Aubra Brumfield, Hugh Brumfield & his mother & Bulah & Else was here at dinner and Mollie & Rubin & Robbert Floid & Chritenia Reynols was here tonight. I was glad to have them all to see us.
Last edit about 11 years ago by
Linda Tucker