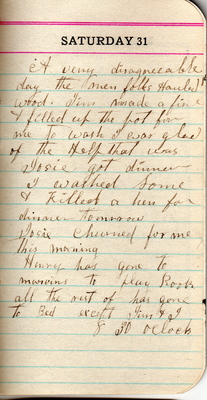 A very disagreeable day. The men folks hauled wood. Jim made a fire & filled up the pot for me to wash. I was glad of the help that was. Josie got dinner. I washed some & killed a hen for dinner tomorrow. Josie churned for me this morning.
Henry has gone to Marvin's to play Rook, all the rest has gone to bed except Jim & I.
8:30 oclock
Last edit 10 months ago by
Ben Brumfield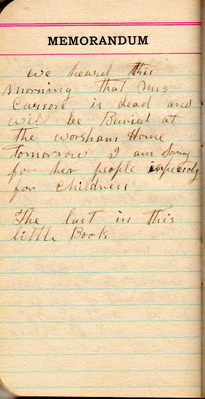 We heard this morning that Mrs Carson is dead and will be buried at the Worsham home tomorrow. I am sorry for her people especialy for children.
The last in this little book.
Last edit over 10 years ago by
Linda Tucker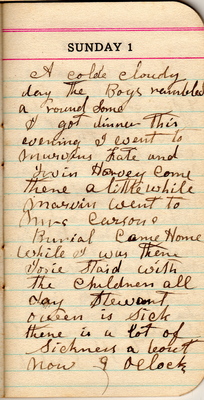 A colde cloudy day. The boys rambled a round some. I got dinner this evening. I went to Marvins. Kate and Irvin Harvey come there a little while. Marvin went to Mrs Carsons burial. Came home while I was there. Josie staid with the children all day. Stewart Owen is sick. There is a lot of sickness a bout now. 9 oclock
Last edit over 10 years ago by
Linda Tucker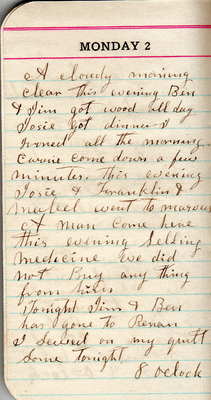 A cloudy morning. Clear this evening. Ben & Jim got wood all day. Josie got dinner. I ironed all the morning. Carrie come down a few minutes. This evening Josie & Franklin & Mabel went to Marvins. A man come here this evening selling medicine. We did not buy any thing from him. Tonight Jim & Ben has gone to Renan. I sewed on my quilt some tonight.
8 oclock
Last edit over 10 years ago by
Linda Tucker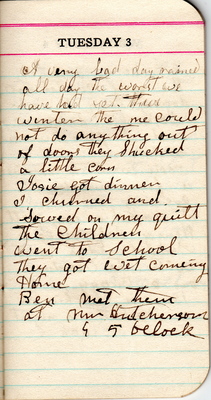 A very bad day. Rained all day. The worst we have had yet. [?] could not do anything out of doors. They shucked a little corn. Josie got dinner. I churned and sewed on my quilt. The children went to school. They got wet comeing home. Ben met them at Mr. Hutcherson. [?] oclock
Last edit over 10 years ago by
Linda Tucker